Growing up in Winston-Salem, my family and I rarely came downtown. Downtown was a 9-5 place, full of office buildings and not much else. For those that worked downtown, it was understood that as soon as soon as you left work, you got out of downtown quickly. As I have begun talking to others about their experiences, I can't tell you how many people have expressed to me their perception that downtown, especially Trade Street, was always a "scary" place to be.
This perception makes the changes and growth of downtown Winston-Salem in the past decade all the more exciting. The evolution we have the privilege of witnessing is the result of a tight knit, hard-working community that believes in Winston-Salem's potential and has committed to seeing that potential fulfilled.
The success of downtown that started from local investors and developers coming together to "buy in" on downtown has snowballed into national developers seeing Winston as place they need to be. The revitalization of downtown Winston-Salem has seen big changes since 2000 and even bigger upward momentum in the past two years.
A recent study found that between 2000 and 2014, over $1.2 billion was invested in downtown Winston-Salem. In the past two years, the total investment has gone up a staggering 21%.
This study, which was unveiled in February at the Downtown Winston-Salem Partnership's annual meeting, breaks out the investments from 2000 to 2016 into 8 categories: residential, institutional/public, health & technology, commercial, office, arts & entertainment, multi-use, and infrastructure (see below for each category's total). These investments have allowed the city to champion some major projects that have moved the needle on the growth scale.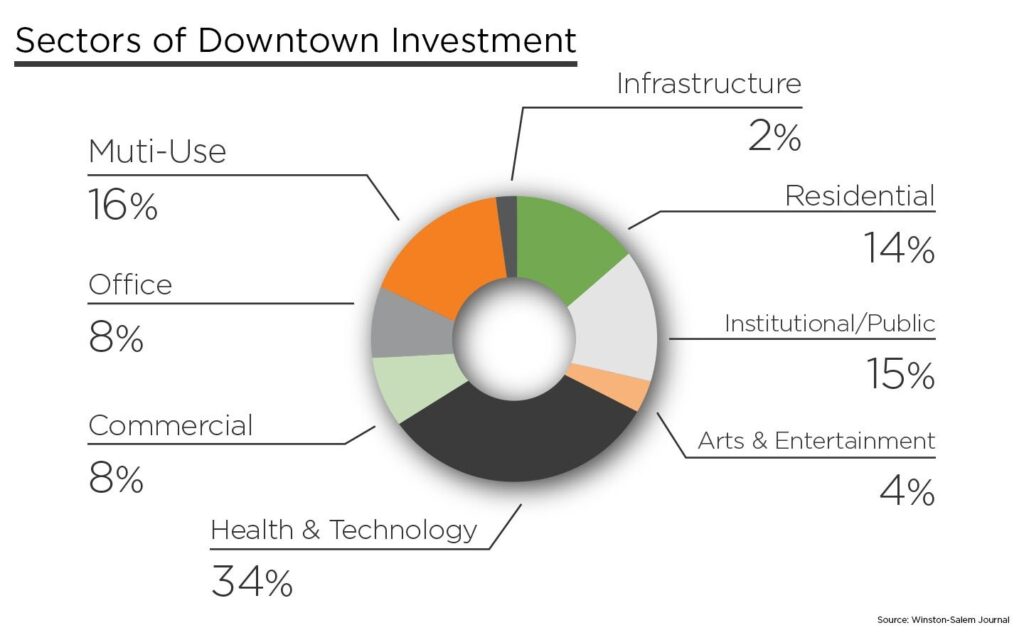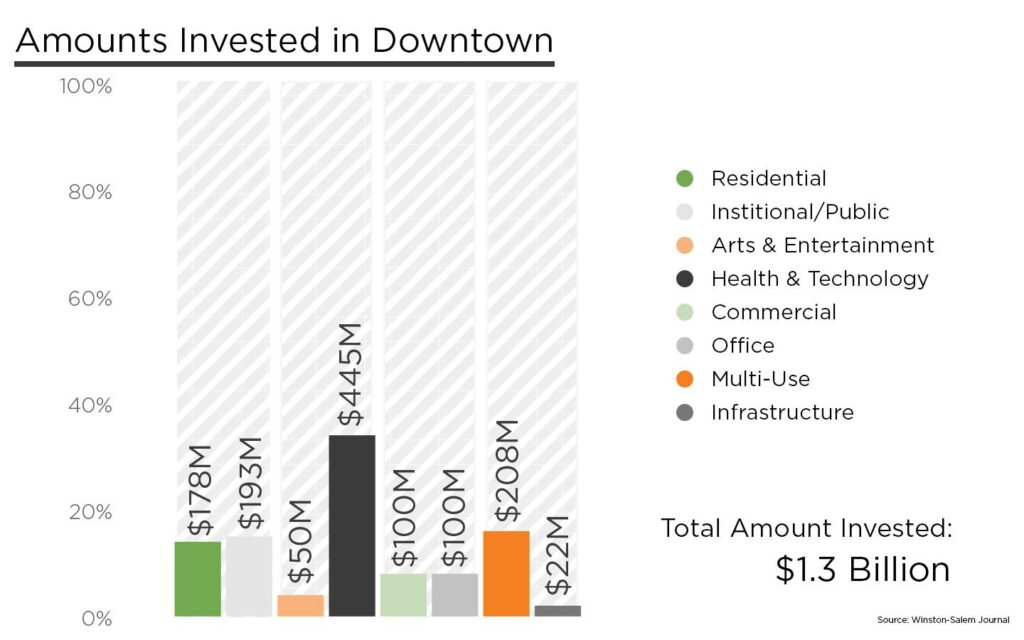 Several of these projects include (but certainly are not limited to):
Innovation Quarter which houses the new Wake Forest School of Medicine along with 525@Vine, Wake Forest Biotech Place, 60-series building, Inmar, Inc., and plans for retail at the Bailey Power Plant. Additionally, Grubb Properties has just announced the development of 340 apartment units, 5,000sf of retail, and a new parking deck in the Innovation Quarter.
The complete renovation of the historic R.J. Reynolds building which is now the home to the Kimpton Cardinal Hotel and Residencies. This former tobacco headquarters has been transformed in such a way that the original beauty and details of the building remains, yet it has become a modern and unique space. This transformation recently earned them the "2017 Great Places in North Carolina" award for "Great Historic Rehabilitation."
ARTivity on the Green, a half-acre urban park on Liberty Street between Sixth and Seventh Streets. This park, headed up by local non-profit Art for Art's Sake and designed by STITCH Design Group, is recognizable by its giant red steel faux smokestacks that pay homage to the city's roots in industry and tobacco.
A beer revolution in downtown with the five new breweries added and more to come. These breweries are Foothills Brewery, Small Batch Brewing, Hoots Roller Bar & Beer Co., Wise Man Brewery, and Fiddlin' Fish Brewery. Each has received an overwhelmingly warm welcome from the city and continue to grow.
T.W. Garner Food Co. relocating to downtown. The makers of Texas Pete hot sauce has been in Winston-Salem for 87 years, but felt that the changes in downtown made it time for them to make their presence better known. They transformed part of the Bolich-Nash building on Fourth Street to highlight the innovation that characterizes both their company as well as the city in which they reside.
Outside of these projects, one of the biggest changing sectors downtown has seen is in residential growth.  A statistic that jumped out to me from the aforementioned study was that from 2009 to 2014, only 1,000 residential units were built downtown, yet today we have 3,058 units with an additional 1,000+ apartment units planned. Across the country we have seen that multi-family growth of this nature has substantial growth effects on commercial development. With residential growth comes more retail shops, restaurants, and bars to cater to all of the surrounding downtown residents. We have already seen this trend playing out here with the influx of bars and restaurants like Crafted the Art of Taco, Wise Man Brewery, and
Downtown Winston-Salem's explosive growth certainly doesn't seem to be slowing down. With all of the momentum and planned projects, I expect to see the growth continue for years to come.