As technology grows and develops, we as brokers need to stay up to date and continue to adapt to what is around us in order to make our clients successful. Far too many times we see real estate brokers get a new listing, put up a sign, and hope the phone rings. This tactic is not doing the client or their property justice, and will likely lead to a less successful or lengthier lease or sale process. (This is why it is so important to make sure you are choosing the right broker for you and your property!) One thing we stress at Linville Team Partners is embracing technology in commercial real estate to make sure we are using every resource available to create success for our clients.
Brochures
Technology doesn't always have to be the flashiest, newest thing out there. One of our greatest uses of technology is our property brochures. When we get a new listing, our marketing team puts together a top of the line brochure showcasing all of the relevant property information. We take great care to not just list facts such as size, zoning, and ceiling height, but also to use photos, aerial images, floor plans, and text to tell the story of the property to any prospective tenant or purchaser.

We then leverage these brochures by sending them to prospective tenants and purchasers with a letter and we include them on all top listing websites such as CoStar and LoopNet for premium exposure.
This process ensures that we are leaving nothing on the table when trying to gain exposure for our listings. Technology itself is one thing, but we distinguish ourselves in the way we utilize these simple technologies.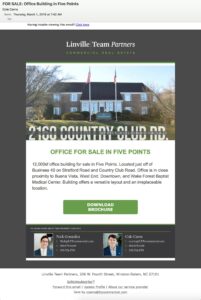 Email Campaigns
In addition to physical mailers, we utilize digital campaigns to help our listings get in front of more people. Each broker curates a list of past purchasers and tenants in our database for whom our new listing may be a good fit for another transaction. We also compile a list of local brokers that we have worked with on similar transactions. These email campaigns give our contacts an easy way to see our new listings and even helps other brokers get their tenants and buyers real time information on new properties coming to market.
Videos
Another tool that differentiates our marketing efforts are our property videos. On numerous properties, we have put together videos showcasing all of the property details and features. This helps client's properties stand out against others, we find that our email campaigns with videos stand out in the slew of emails hitting inboxes everyday. Videos also allow tenants or purchasers a chance to get more of a feel for the space right away without having to travel to see whether or not the property is a good fit.
Drone Footage
One of my favorite tools we utilize is drone footage. Having the access to a drone will make any property stand out a thousand times more than the rest of the competing properties. As you can see with the land listing below, the drone footage helps potential purchases see the layout of the parcel as well as a better picture of where it is with regard to nearby properties. Being able to offer clients the opportunity to have their property showcased on this level provides them with the confidence that we are doing all that is needed to fulfil their needs.
What's next?
When owners reach out to Linville Team Partners they know that we are going to provide them with the best tools possible to lease or sell their properties. We do everything within our power to gain our clients' trust, and hopefully give them the smoothest marketing and transaction process as possible.We feel that we are responsible for being on the lookout for new technologies and marketing methods to ensure that our clients and their properties receive the best service possible
What other CRE technologies or marketing tactics have you found to be successful? Tweet them at us @linvilleteam!