As a commercial General Contracting company, Fourth Elm Construction has completed over $55 million dollars of office construction over the last four years, giving us firsthand insights into the trends driving office space renovations.  From design and layouts to finishes and materials, the workplace is continuing to evolve as companies learn what works best for employees and overall success.
We asked them to share a few trends that they are currently seeing in the offices they are upfitting – check them out below! What do you think? Would you incorporate any of these in your work environment?
---

Glass wall systems
One notable trend in modern office design/construction is the increase of glass office wall systems, which provide a level of privacy without isolation.  Glass wall systems also bring natural light to internal, core areas of the office. Tenants (and their employees) are increasingly requesting glass as an investment in the office environment and productivity.
---
Varying Finishes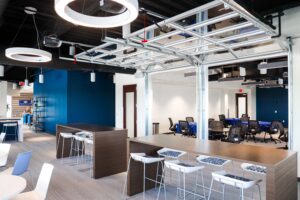 With the progression of technology, office design has also advanced with an enhanced level of finishes, materials and office systems in the workplace. These trends range from sustainable efficiency products, audio/visual packages to sound masking materials such as acoustical ceiling tiles, decorative LED lighting, functional furniture and modern flooring options like luxury vinyl planks or polished concrete.
---
Incorporating Branding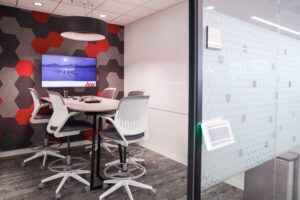 Finally, we are seeing a trend towards "branded" office finishes, which serve as a way to visually illustrate the culture, values and purpose of the organization.  These branded environments create a memorable, differentiated experience for employees, assisting in recruiting and retaining talent.  These finishes can include graphics, fabric or vinyl wallcoverings, or even themed millwork.
---
COVID-19 Precautions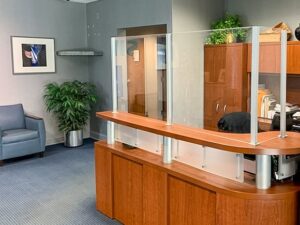 Finally, as a result of the COVID-19 viral pandemic, we are working with office users and designers to adjust office design to provide additional virus protection options.  This includes touchless features (such as door openers, faucets, toilets and lights) and protective glass barriers.
---
We love seeing how office spaces change over time! Each of these trends offers a unique way of responding to a company's needs and goals. With all of the current changes in the office market, we are sure to see these trends continue to evolve!
---
Interested in learning more about office trends? Or need help upfitting your space?
Contact Fourth Elm Construction for more information on this topic!