Food is at the center of holiday celebrations for many people, myself and my family included. For many of us, as we look toward the holiday season, we anticipate a time of surplus and second helpings, not knowing the discomfort of hunger that so many of our neighbors associate with the holidays.
Did you know that Forsyth County currently ranks in the top 20 worst counties in the nation for families reporting food insecurity? According to Second Harvest Food Bank, 16.1% (58,570) of residents in the Winston-Salem area are food insecure. Of that number, 18,750 are children. The inability to consistently afford enough food harms the health and productivity of individuals and families, as well as the ability of our entire community to thrive.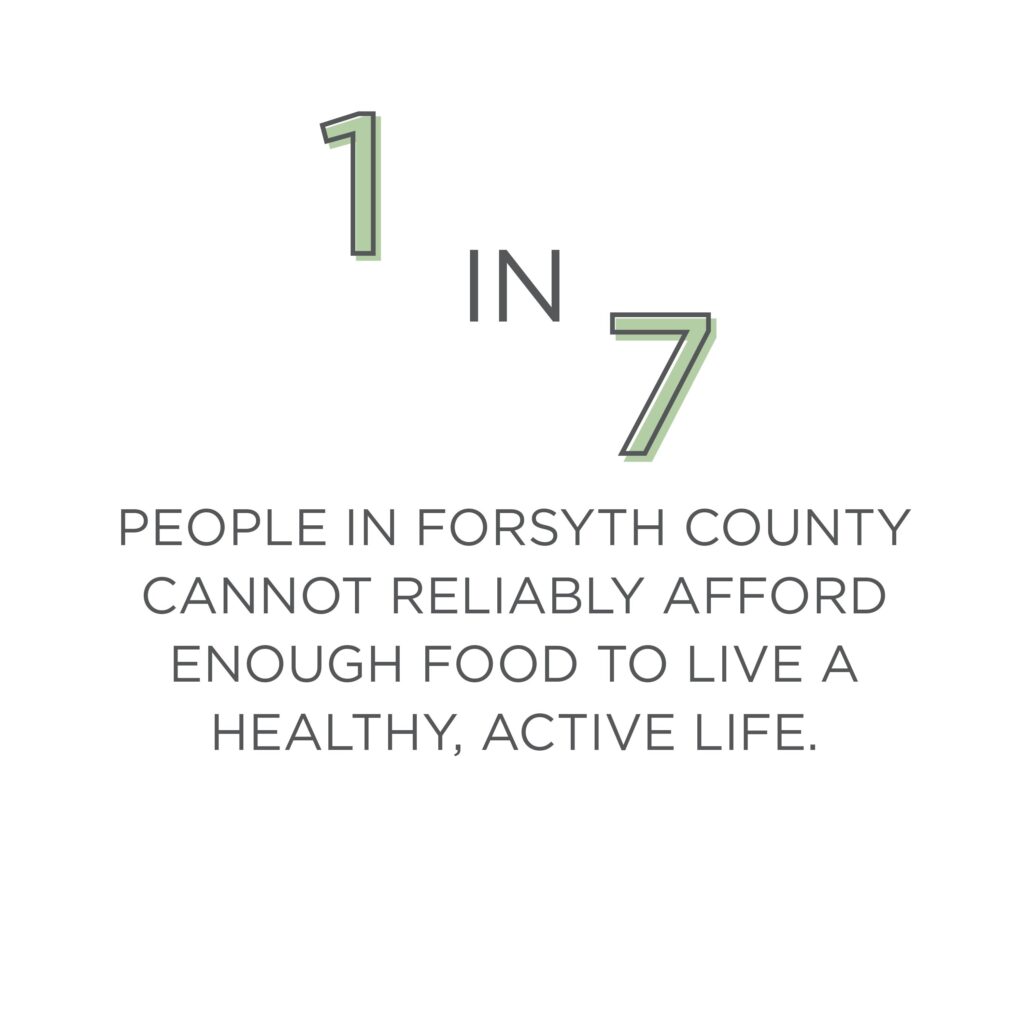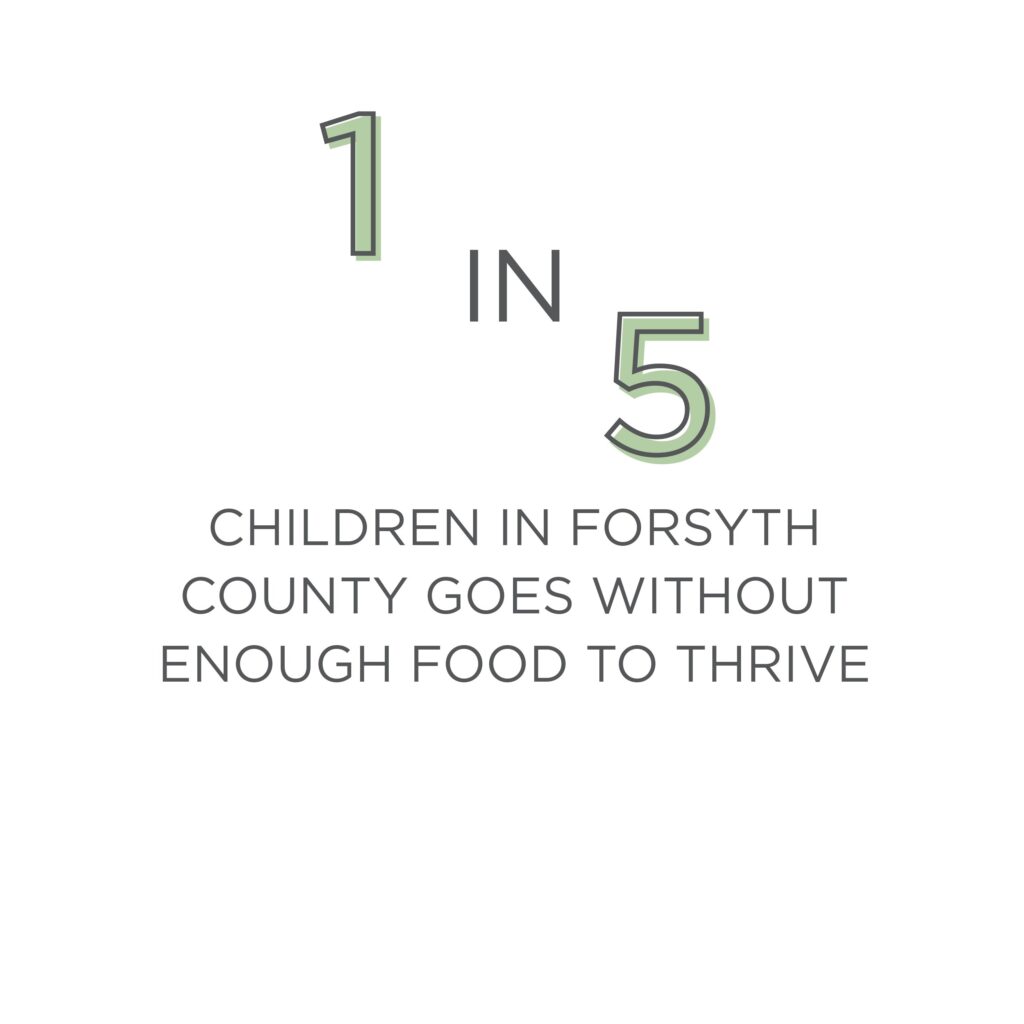 Food Insecurity & the holidays 
62% of the children attending Forsyth County public schools qualify for a school meal program. This program is a major way these children obtain the nutrition they need, and unfortunately, this resource isn't accessible over the holiday break or on snow days.
Many working families in Forsyth County live one unforeseen expense away from hunger. For many, this leaves them choosing between paying for higher heating bills during the colder winter months and purchasing food for their families. 
The holiday season is one of Second Harvest Food Bank's greatest times of distribution and need. On average, 37 tons of food come in and out of the food bank daily.
As you can see, for some families, the holidays are associated with fear, stress, and hunger, rather than surplus and leisure.
Fighting Hunger
Second Harvest Food Bank of Northwest North Carolina is a critical resource for a network of over 470 local food assistance programs serving 18 counties, from Burlington to Boone, including Forsyth County. These include food pantries, soup kitchens, shelters, retail grocers, and distribution fleets to food deserts, farmers, & meal programs for children, adults, & seniors.
Last year more than 6 million nutrient rich meals were received by working families in need thanks to charitable donations to Second Harvest and their partnership with local programs in Forsyth County. That is 7.4 million pounds of food!
How can I help? 
GIVE: Donations of food and money are always appreciated. Every $10 donated to Second Harvest can provide up to 70 meals to folks in our community. It is so quick & easy to do, just click here!
VOLUNTEER: Inspect and sort donated food at Second Harvest. Or lend your talents to get involved with a special event committee. Check out some volunteer opportunities here!
ADVOCATE: Speak up! Rally your co-workers, school group, or civic club to support healthy, hunger-free communities. Consider organizing a food drive for your office to help get nutritious food in the hands of our community members in need. Check out these resources to help you get started. 
PARTICIPATE: Check out Second Harvest fundraisers like their Set The Table and Empty Bowls events throughout the year. All of their upcoming events can be found here. 
Second Harvest also has 470+ partner programs that could also use your help during the holidays. Below are a few local programs that help combat food insecurity in Winston-Salem: 
What does a thriving, sustainable food-ecosystem look like?
Part of Second Harvest Food Bank's mission is to create lasting solutions to hunger and poverty. One way they seek to achieve this is through their Providence Culinary Training Program. This is a pathway for individuals, ready for a fresh start, to achieve gainful employment. Students receive intensive culinary and job skills training, followed by a one week internship in one of the program's employment partners. Graduates, like the head chef at The Porch, are ready to enter the workforce as members of the growing food service industry in our area.
Second Harvest Food Bank's Providence Restaurant and Catering is a unique, non-profit enterprise that supports the Providence Culinary Training Program. Patrons can enjoy fabulous food and while helping to build a sustainable food-ecosystem since all proceeds go to supporting the training program.
Everyone deserves to eat. Together we can find a way to support Second Harvest Food Bank in their mission to solve hunger in Forsyth County this holiday season and throughout the year!
---
Clyde Fitzgerald, Jr., who dedicated  36 years of service to Second Harvest Food Bank of Northwest NC, first as an advocate, board member, and board chair, and later as the organization's CEO for nearly 10 years, passed away on Sunday, November 18, 2018.  "Clyde lived a life full of remarkable achievement but none greater than his legacy of service to our community and fellow man," said the food bank's board chair Michelle Butt. "I am humbled to have known him, and I know that all of us at Second Harvest, and across our 18-county partner agency network, are better for having worked alongside him to end hunger." Under Clyde's leadership, addressing childhood hunger was a top priority, as existing and new program models were expanded and launched to provide more nutritious meals for children who need them throughout the 18 counties Second Harvest serves.

Help honor Clyde's legacy this Giving Tuesday by supporting Second Harvest Food Bank of Northwest NC in their work to achieve his vision for our community. 
Read more about the life and work of Clyde Fitzgerald, Jr. here.