About this time last year, we decided that we were long overdue for defining a true mission statement for our firm. Although it always seemed like our partners, brokers, employees, and clients knew what we valued, we had never put pen to paper and formally defined our vision and values as a company.
We began creating a mission statement by first speaking with each of our team members individually. We wanted to learn more about what they viewed as being our core values and where they felt we were moving as a company. It was exciting and encouraging to find that although we had never written down our values, our team was united in their understanding about what principles constituted the heartbeat of Linville Team Partners.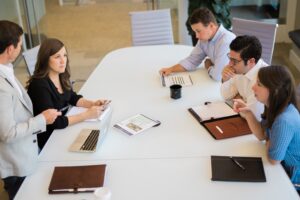 We unveiled our mission statement at our team retreat last October and subsequently hung it prominently in our office. It is a fantastic reminder to each of us about why we do what we do and how we should be conducting our business day-in, day-out.
We wanted to take the time now to share this statement with you. We hope that these values exemplify Linville Team Partners to you! 
---
Vision 
Our vision is to be the most reputable, value-driven & preferred commercial real estate firm in the Triad. To achieve this, we will provide creative and thoughtful services on a consistent basis & give meaningful value to our clients and community. We will continually promote a culture of ambition & ingenuity while inspiring confidence through mentorship, collaboration & respect.
Values 
Culture

 
Our internal commitment to building a fun & ambition-driven culture has helped us create a company we are proud of. We provide our brokers with maximum support, so they can grow, expand & do what they do best. 
Teamwork

 
A strategic, team-based approach to commercial real estate allows us to employ greater resources & provide consistent, seamless execution to every transaction; ensuring our clients receive the highest level of skill, care & diligence.
Respect
Each & every one of our clients is met with the same high level of respect & courtesy. We seek to communicate with everyone we interact with consistently, honestly & in a timely manner. Our level of professionalism should, at all times, match our values. 
Community
Our agenda is to transform & enrich our community through commercial real estate. We view ourselves as members of our community & we believe that we succeed when our community succeeds. We strive to foster growth and knowledge internally & aim to give back to those around us. 
---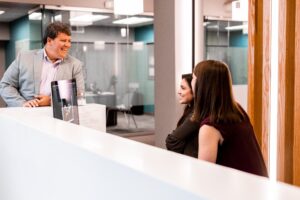 Although it was only last year that we compiled this statement, these values have been at our core since we opened in 2012. Our goal through each client partnership is to deliver a unique service of maximized value, insightful experience, and innovative solutions all while staying true to who were are. 
Has your organization defined their values? Share them with us on Facebook or Instagram so we can highlight your company culture in a future blog post!