Experiential retail entertainment is on the rise. Consumers are putting a high value on interactive/memorable shopping as well as location-based experiences. The future of physical retail is moving towards interactive, memorable, and "insta-grammable" shopping experiences. 
As far as physical shopping goes, this means customers are valuing your product as well as the moments that can be captured and shared as part of the overall shopping experience. People will show up, engage, and share if you give them something worth experiencing. Entertainment-based retailers that are succeeding at attracting customers are creating unique moments and experiences that create buzz and word of mouth. In today's competitive climate you need to try harder to stand out from the pack.
These location-based providers are shifting their business model; changing the way we experience festivals, parks, museums, and retail locations. Multi-sensory entertainment venues are on the rise! We are now seeing experiential retail/entertainment such as escape rooms (like our friends over at Total Escape), retro "80's-style" arcades (like our neighbors over at Reboot), big VR world creators (like Dreamscape in Century City and The Void with 11 locations and counting), interactive art (such as the recent "Beyond the Looking Glass" exhibit in Downtown Winston-Salem), and players in the physical space (such as Meow Wolf in Santa Fe and Color Factory in NYC).
One interesting concept I recently had the pleasure of experiencing was a VR arcade, Virtual Reality Studio in Auckland, NZ. Both modern and retro, the experience visiting this arcade is unmatched. It all begins with the text on the front doors, which reads: "Welcome to the matrix." From the moment you stepped through those doors, there was an ease with which you could get setup and plugged in, and on your way to experiencing all kinds of virtual reality games and immersive stories. My time there made it clear that this is an industry that is ripe for expansion.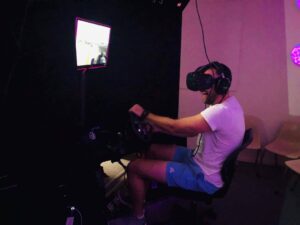 I had the opportunity to interview the owners who are looking at various expansion and franchise possibilities and have certainly figured out how to make the concept streamlined, fun, and immersive for the customer!
What gave you the idea to open up Virtual Reality Studio? Was there a specific "a-ha!" moment that you recall?
The idea to open a Virtual Reality Studio came about  when HTC Vive announced their launch of their first demo kit. 
We pre-ordered a Vive for ourselves as we had been kids of the 80's and promises of VR had been made that never came close to delivering an immersive experience. On pre ordering our own headset (and before it even arrived) we looked into certain elements suchas the price and lengthly set up. 
We could see the product was there in terms of quality, but the price was still too high for the mass consumer for a home product, therefore the idea into opening  a social VR experience and games arcade!

What were some of the challenges you had to overcome once you decided to move forward?
Considering what our business model is – who is our target market? 
Being a new entertainment source when we opened in 2016 meant we may not have had any competition in the early days but we also had no customers actively searching for VR entertainment.
Changing the way people perceive a games arcade.
We are not simply for the "classic gamer", we had to find ways to market to guests who would like arts, travel, education and experience types and break down classic video arcade stereotypes.
Systems and Management
This included booking systems, timers, management systems, licensing, tutorials – nothing was set up or pre existing for a VR Arcade format at the time; and there are still limited options for owners. A big part of this also includes the cost, maintenance, and breakage prevention on the tech gear itself.
Staff  
Being a "VR Host" and learning what the role looks like was a unique challenge- we needed to find the right personality types and skills for what turned out to be a fast-paced and very critical customer-interfacing role.

How would you describe your average customer? Have there been changes/tweaks you've implemented as you've learned more about your customers and how have they responded?
Our average customer varies A LOT, but we are very lucky to have a diverse range of customers. The diverse demographics was a consideration in the set up of our establishment, which is why we offer large common areas for families, functions and events. We could have easily filled our entire venue with VR stations, but we wanted to create a hub or space people would want to spend time in to add value to their trip and be a space with personality to be a place they want to celebrate in with a memorable atmosphere.
The vast majority of our bookings on weekends during the day and school holidays are parties averaging ages from 6-16 years old. In the evenings this shifts to ages varying from 16 to 50. Weekdays bring about corporate events, educational groups, university students, and retirees. 
Family groups, were most definitely always, and still are, our low hanging fruit in terms of bookings, return customers, and word of mouth advertising. 
As we got to know what our customer base looked like and what they wanted, we tweaked a few things to suit:
Opening earlier
Coffee facilities and free entertainment for supervisors
Adding additional VR experiences (VR PLUS) – which runs during peak times on the weekends
Customizing experiences & packages and adding on activities, facilities, and other extras to suit
Not only have we thought of the immediate customer (i.e. the child finding value in their visit to us), we have also considered the paying customer (i.e. that child's parent) to determine what their wants/needs are and how can we make their experience special.
How "big" is the VR Arcade market segment? Are there any milestones coming up that you think will change the industry in a big way?
The market is building but not yet mature and the returns aren't yet anything like a redemption based video game parlor. 
We have had over 4 VR arcades open here in Auckland since 2016 that have not made it through to their first year, which doesn't seem to deter new places from popping up but most definitely shows its a tough market to get into. You need to be very well branded, build a loyal following, and have a long term focus and commitment to not only survive but to flourish.

The next real venture in this space are the 'theme park rides' or VR as an attraction. I find it helpful to look at arcade power houses such at Dave and Busters – they are now offering Jurrasic Park rides by VR Studios, which seems to be an indicator of where VR is going. I also look at full immersion VR- Companies such as The Void have done a great job at creating full immersion experiences like Ghostbusters, for example. 
VR will become a normal home and work item just like PC's in the 90's, it's only a matter of when. In the meantime arcades such as ours are a great intro and a different form of entertainment to welcome guests to their near future, and the business will adapt to free roaming esports and rides over time as the technology is perfected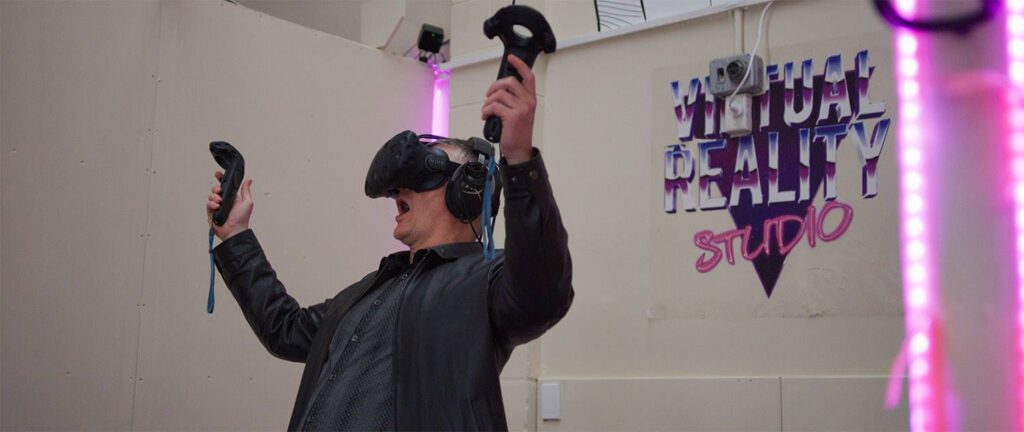 What comes next for you? 
We have been working on our own proprietary VR Studio management system, which includes in-headset tutorials, as well as a management system with a timer, call-for-help, and proprietary game launch pad.
This has been a project as big as setting up the company itself and was created to make the guests' time special and provide us with an ongoing point of differentiation as we move forward in systemizing our winning formulas to enable successful franchising and partnerships in the near future.
We are also working on partnering with a flight experience company to bring multiplayer aviation simulators to our studio as well as expanding to create a VR Arena with free-roaming and esports. 
---
This is an exciting industry full of potential. Check out the Virtual Reality Studio website to learn more about what they are doing. And let us know on our Facebook if you've had a chance to visit any of the Triad's VR options, such as Looking Glass in Winston-Salem or Shift VR in Greensboro.