The following article was by our 2018 Summer Intern, Ian Moser (Campbell University, class of 2020), under the supervision of partner Nick Gonzalez.
Many business owners are becoming more and more aware of the ways their office culture can effect their company. Office culture not only affects employees' daily experience, but can also affect how customers view a company and the output from the employees.Since seeing these affects, business owners now seem to always be looking for new ways to improve their office culture. However, many of these business owners overlook the fact that their office space itself can limit their company's progress in this arena.

biggest Impacts on Office Culture… 
Although there are many ways office culture is affected by office design, as I have thought about this topic, I believe that there are three areas that are most keenly impacted. These are employees' ability to work together, customer's perception of a brand, and a company's potential for innovation.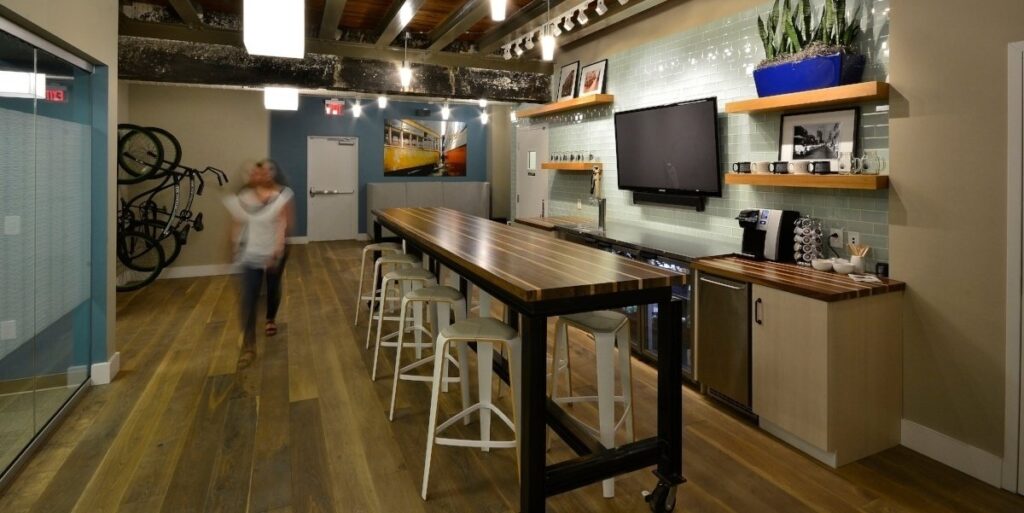 While interning at Linville Team Partners for several months it became obvious to me how a company's office layout, design, and location can play a key role in the company's culture. Not only is it important for the client to experience who you are as a company, but also it is crucial for your employees to feel that they are part of a cohesive, deliberate, and thoughtful work environment.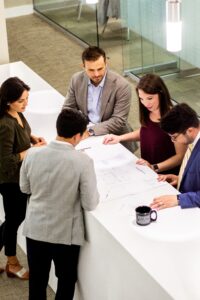 How does office space influence team work?
The standard office is not always as productive as it could be. Closed-off offices, long narrow hallways, and separate waiting areas are floor plans that can negatively affect your business. To have effective teamwork, there should be direct communication and, if appropriate, a layout that encourages collaboration. At Linville Team Partners, communication flows through the office space easily because of the open floor plan and glass office walls. Additionally,  other designated areas allow for small breakout meetings and more informal collaboration. Having a variety of flexible meeting & learning spaces can encourage growth, teamwork, and keep things interesting around the office.
When someone walks into your office what do they feel?
Clients want a company that is effective, trustworthy, and original. Whether you like it or not, clients often assess whether or not your company has those attributes as soon as they walk through your office doors, perhaps before even giving you a chance to directly address your skills! Use your clients' first impression of your office space to show them without words what type of business you are. View all of your design and layout choices as a chance to create a visual representation of your company!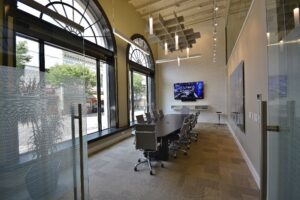 How does your office affect the work you are doing?
Having an innovative workspace is a necessity if your brand calls for originality (and in this day and age, what brand doesn't call for originality?). If a space is new and unique it inspires new and unique thinking; which may be the differentiator your business needs to stand out above the competition.