Redeveloping the LTP Office
In our search for new office space for Linville Team Partners in early 2014, Aubrey Linville and I set out to purchase and renovate a landmark building in downtown Winston-Salem. We took a break late one afternoon and brought the company to "whiskey Wednesday" at Tate's Craft Cocktails, located in the heart of downtown Winston-Salem, right on 4th Street. Sitting on the patio, Aubrey and I looked at each other with the same thought – "Why don't we buy that building right over there for the new LTP office?"
The building we were looking at is a beautiful 1925 art-deco building designed by Harold Macklin as a retail, bank, and office building. In deciding on this acquisition, we were looking to accomplish several things – contribute to the renaissance of downtown Winston-Salem with the renovation of a landmark property, create a statement presence for our firm where we could build on our culture and company impact, and create a long-term, legacy investment asset. What began as a rendering and a dream (and a significant underestimation on the initial budget) has turned into one of the best decisions of our professional careers. We now have a 100% occupied building that is full of creative energy across multiple firms that brings our entrepreneurial spirit into the heart of downtown Winston-Salem. Our design parameters started around one thing – when you walk into our space, without speaking to anyone in our company, you are overwhelmed with a sense of who we are, what our culture is and how we conduct our business. That has become a huge success for our firm as we have come to understand the power of what our office says about us – and through this blog post hopefully show how other firms can harness that same culture-creating power with their own office design.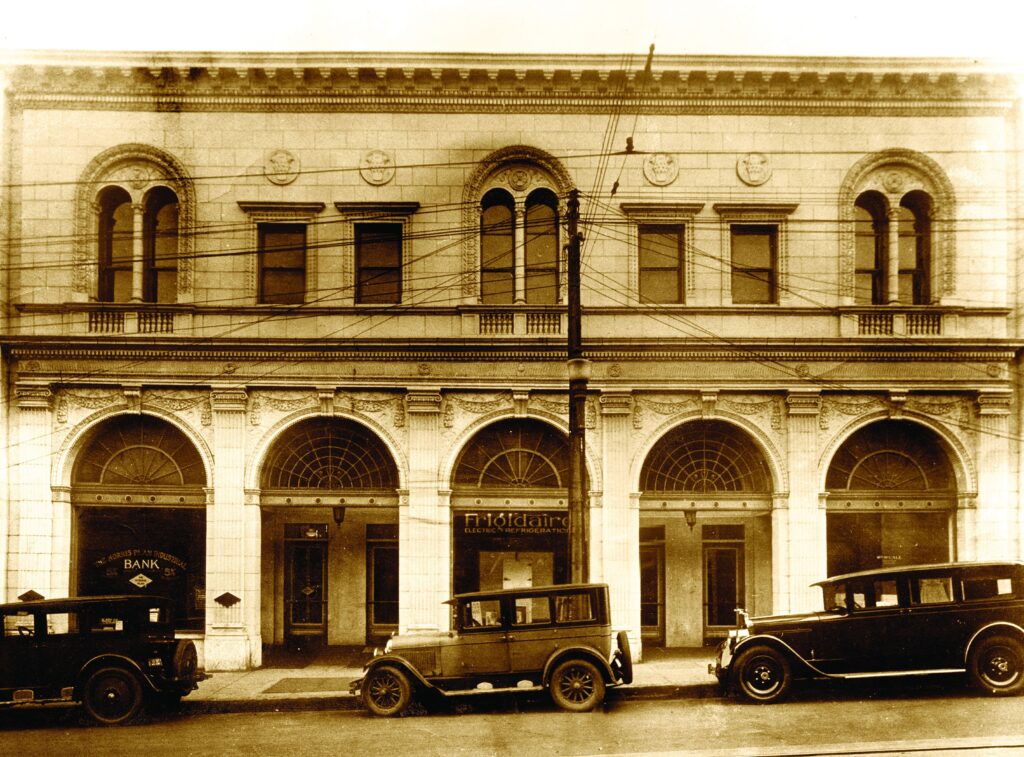 206 W. Fourth Street has had several tenant transitions since its construction. It was originally built in 1925 as a 'mercantile building' for three tenants: The Morris Plan Industrial Bank, Frigidaire's retail store and W. McCall's (a retail store opened by Lebanese immigrant William McCall). The building's architect, Harold Macklin moved to Winston-Salem from London in 1919 and is most known for his design of Saint Paul's Episcopal Church, also located in downtown Winston-Salem. The Winston-Salem Morris Plan Company gave way to City National bank in 1940 and CNB was the building's anchor for most of its life. The tenant prior to our purchase was Jim Painter's Contempo Concepts, a modern home furnishings store.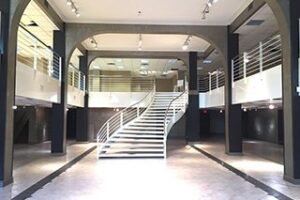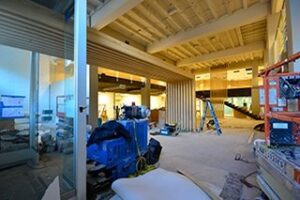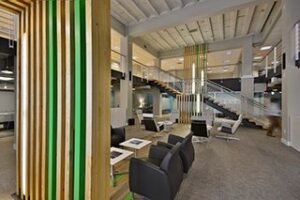 Aubrey and I hired STITCH Design Shop, a local architecture firm, to help with the design of the building. At the time, STITCH was in the same building as LTP on Trade Street, also in the early stages of launching their company. Through initial design meetings, STITCH continued to push us outside of our comfort zone as far as what we considered 'cool office space'. Our vision, along with STITCH's boundary pushing ideas, created the final design that delivers on our intended goal: an office space that will push our company to the next level through culture, passion and creativity. The space design led us down numerous paths, but all focused on achieving several key elements: a collaborative and engaging office setting, unique space where we can host events and entertain clients, and an environment that enhances our company's energy and office culture. We had unique design challenges such as only three windows providing natural light, low ceilings in many parts of the space, and a mezzanine that dictated the office layout.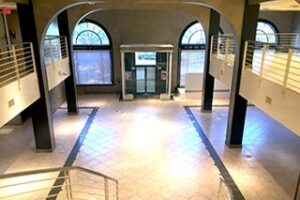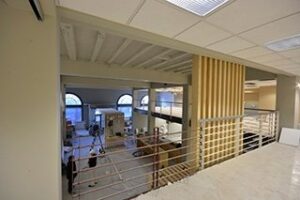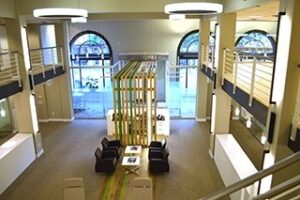 We began an eight-month renovation of the main and mezzanine floors (approx. 11,000sf) that led to countless hours of creative problem solving with STITCH and our contractor, Landmark Builders. Following our renovation, we gutted the 2nd floor and began construction for two new tenants looking for similar space to help them foster their own company culture (see the Trends in the Office Market: Part 1 post). We moved into the building in March of 2015 and could not be happier with the final product. Many long office hours, parties, meetings, and community events later, we have realized the potential that office space has in helping redefine the future of a company.