The other night LTP attended the annual Wake Forest Innovation Quarter Town Hall. This year the title and theme was "Building Momentum." Eric Tomlinson started the evening off recounting a recent Uber experience.  The driver, Charles, asked if Dr. Tomlinson had been downtown recently.  A charming exchange ensued and ended with Charles summing up the transformation in a unique way. He equated (old) downtown Winston-Salem to the back door of a house. No one wants to see it, or use it, but it's there. Utilitarian, if you will. He then countered that downtown had grown into the front door: welcoming, attractive, a statement piece – something that you want everyone to see.
Building Momentum
The growth in downtown Winston-Salem and transformation of Innovation Quarter is undeniable. Construction is nearing completion at Bailey Power Plant and The Link at Innovation Quarter project is underway. So naturally, people are beginning to wonder "what's next?". That's exactly what last night was about.
What started as a manufacturing economy with Reynolds has been transformed by the knowledge economy and companies like Inmar, Clinical Ink and Sunrise Technologies. Tomlinson acknowledged that a catharsis of sorts was necessary – that we needed to both acknowledge and remember the past, while looking forward to the future.
While the theme of the night was "building momentum", there also seemed to be deliberate focus on "patience and planning". Everything that is going on in Innovation Quarter is vetted, planned and intentional. In a Q&A session with Dr. Tomlinson and Mayor Allen Joines, moderated by Karen Barnes, of Venture Café, Mayor Joines stated that they didn't want to "just divvy up property". They wanted to make sure that the decisions being made today would drive growth, boost the economy and benefit future generations.
So let's get back to "what's next".
What's next?
Phase 1 of Bailey Power Plant is nearing completion, with Claire Calvin's Alma Mexicana slated to open in January 2018. Venture Café will make it's permanent home in Turbine Hall and be joined by CML Microsystems, Wake Forest Innovations and the Medical School. (And yes, I said "Phase 1". Dr. Tomlinson said there are plans for 23-1 and the Morris building and hoped that he would be able to share some news soon!)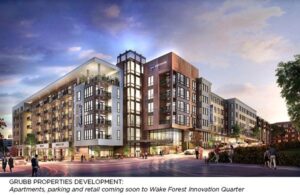 The Grubb Properties project, between North Patterson Avenue and Chestnut Street adjacent to Wake Forest Biotech Place, is underway. The Link Apartments at Innovation Quarter will house 343 units, the largest apartment development to date in downtown Winston-Salem.  Those apartments will wrap 900 parking spaces (greatly needed in the area) and 5,000sf of retail space, both ready in mid-2018. The apartments will be ready for residents in mid-2019.
Long Branch Trail, the old rail line that has been converted to a greenway, will be completed and unveiled in the spring of 2018. This 20 mile continuous path will connect the northern end of Innovation Quarter to Salem Lake by way of Rams Drive, Research Parkway and Salem Creek Greenway.
Phase 2 of the North District of Innovation Quarter is in the planning stages. 2.5 million square feet of new property is planned just south of Bailey Park. The centerpiece building will sit atop what is now known as Parking Lot P7. Prior to breaking ground, much thought and planning is going into what kinds of businesses to recruit, where those employees will park and what they are looking for in commercial space. Again, patience and thought.
Goals from the top
After announcing all of these updates, Dr. Tomlinson set some goals for the next couple years:
| | | |
| --- | --- | --- |
|   | CURRENT | 2019 |
| JOBS | 3,600 | 4,100 |
| COMPANIES | 150 | 165 |
| STUDENTS | 1,500 | 1,900 |
| RESIDENTS | 1,000 | 1,500 |
| EVENT ATTENDEES | 35,000 | 45,000 |
Keep in mind, Innovation Quarter has more than doubled the companies calling it home since 2015, growing from 70 companies to 153!
In fact, one of the most impressive slides from the evening displayed growth over the last five years. In 2012, Innovation Quarter was home to 16 companies and 853 workers. Currently, 153 companies and their 3,607 employees bring their vibrance, energy, knowledge, creativity and talent to Innovation Quarter.
The footprint and reach is growing
The success of Innovation Quarter is spanning the globe. What is happening here in Winston-Salem is being recognized nationally and globally. And it's not just the companies getting noticed, Innovation Quarter itself is being recognized for what it's doing for economic growth in downtown Winston-Salem.
Everyday there is something growing, developing and evolving on these 330 acres – and the energy is palpable. All that's missing is a giant welcome mat for the front door!