Welcome! Whether you walked by our front window, follow us on Instagram or just stumbled upon this post on our blog, we are glad you are here! We are counting down the days to Christmas by celebrating exciting events that happened this year. Some are deals we were involved in, others are neighborhood events that we want to celebrate. Thanks for joining us and check back tomorrow for the next reveal…all the way to Christmas! 
1. TWIN CITY LOFTS
We are starting off our countdown with a mixed use project that has been a long time coming. Prior to renovation, the building housed J.C. Penney, with the top floor being reserved for the Twin City Club. Years later it was repurposed as a Gold's Gym. Now it will house residents on the top four floors, with retail at street level. Residents are already moving in, the retail spaces will be occupied in early 2018. Check back SOON for more details on those!
2. WISE MAN BREWING
Wise Man was the first of new breweries to join Winston-Salem in 2017. Residing in the Old Angelo Brothers building, Wise Man has created an urban industrial atmostphere with a laid back, community vibe. With 16 taps and an expanding selection of beer, there is something for everyone here. Food trucks and live music make a regular appearances; artisan markets, running clubs and yoga can be enjoyed at various times throughout the year. Stop in the next time you are in the area! Visit their site!
3. CYCLE BAR
Cycle Bar is joining the retail space in Twin City Lofts. Opening in early 2018, Cycle Bar will offer indoor cycling classes to all fitness and experience levels. Your performance is tracked – with results emailed to you after each class. They will provide shoes and towels for each class. Amenities include keypad lockers and showers. Each class has a customized playlist, so each class will be different. They are running an awesome 40% off special for new members right now, get more info on their website!
4. Venture Café Winston-Salem
Venture Café Winston-Salem helps enhance and accelerate the growth of innovation and entrepreneurship in our city through high-impact programming and events and by creating intentional spaces for individuals and organizations to gather, connect, and build relationships. Venture Café Winston-Salem is a member of a global network, with partner organizations in Boston/Cambridge, Massachusetts; St. Louis, Missouri; Miami, Florida; and Rotterdam, Netherlands. Visit their site!
5. Bailey Power Plant: Phase 1
Slated for completion in January 2018, the first phase of the Bailey Power Plant is a 110,800 SF redevelopment of the former RJ Reynolds Tobacco Company's coal-fire power plant. Located in the epicenter of the Wake Forest Innovation Quarter, the Bailey Power Plant is Wexford Science & Technology's sixth project and will bring their redevelopment total to one million square feet and nearly $400 million in investment. Read more here. 
6. Benton Convention Center
This year, Benton underwent a $20 million renovation. One of the largest meeting facilities in NC, Benton now boasts 105,000sf of flexible meeting space. Exhibit halls, breakout rooms, reception areas, three ballrooms and a boardroom can accomodate groups of all sizes. Architectural nods to Winston-Salem's historic arts, tobacco and textile roots were included, as well as local artisans and artists works displaying throughout. Read about our recent tour here.
7. Colony Urban Farm & Bee Our Future
We partnered with Colony Urban Farm to start a non-profit, Bee Our Future. Bee Our Future is a local bee conservation initiative that delivers, installs and maintains beehives for businesses and residences throughout the Triad. We have hives on our rooftop and there are also two at Twin City Loft. Read more about it 
8. FIDDLIN FISH
Fiddlin Fish joined the local brewery community in August, when they opened their 15 barrel brewhouse in the Big Winston Warehouse. They have definitely been thoughtful with materials and decor.  Reclaimed steel frame windows from the Nissen Wagon Works factory frame the brewing area, 105-year-old heart pine was used for the taproom counter and local artist Hieronymus painted the taproom mural. The Roaring Riot, the Triad's #1 Panthers Fans, can be found here each Sunday during NFL season. Food trucks, trivia and local music are all regular events, see their full schedule here. 
9. Kaleideum
The merger of The Children's Museum and SciWorks took place in 2016, but in February of this year, they announced their joint name, Kaleideum. The Children's Museum is known as Kaleideum Downtown and SciWorks is Kaleideum North. They are planning a new location on the site of the former Forsyth County Sheriff's Office in downtown. 
10. WAKE DOWNTOWN AND SCHOOL OF MEDICINE
In 2017, newly approved courses of study in Engineering, Biochemistry and Molecular Biology, and Medicinal Chemistry and Drug Discovery anchored the University's undergraduate presence at Wake Downtown located in Wake Forest Innovation Quarter. These programs, along with other planned academic, community, and social opportunities, call a rehabilitated R.J. Reynolds Tobacco Company 60 series building home and is adjacent to the new space for the medical education programs of Wake Forest School of Medicine that started in summer 2016. Read more here 
11. Village Juice
Village Juice will open a second location in a retail space in Twin City Lofts. Adjacent to Cycle Bar, the downtown location will be larger than the current location on Stratford Road. They will have counter service and a build-your-own salad area, along with beer and wine. In addition to the cold pressed juices, the menu will include smoothies, salads, grain bowls, smoothie bowls and desserts. Read more here
12. MARK OWENs / WS CHAMBER
Mark Owens joins the Winston-Salem Chamber of Commerce as President and CEO this month, after spending three years with the Greater Greer Chamber of Commerce in SC. Earlier this year, Gayle Anderson announced she was retiring after more than two decades with the Chamber. After reviewing 230 potential candidates and months of searching, Owens was the unanimous choice among the search committee. 
13. ALMA MEXICANA
Claire Calvin will open her second Winston-Salem restaurant in early 2018. Alma Mexicana will provide fresh, fast counter service to the busy downtown lunch crowd and a seated, upscale sharing menu and margaritas in the evening. Alma Mexicana will be located in the first phase of Bailey Power Plant. 
14. BOOKMARKS
Bookmarks is a literary arts organization that fosters a love of reading and writing in the community. The programming connects readers with authors and books and is achieved through the largest annual book festival in the Carolinas; an Authors in Schools program, which reaches 7,500 students annually; and year-round events in their gathering space and nonprofit independent bookstore which opened in July of this year. Read more here
15. SKIPPY'S 

Skippy's reopened in March after being sold to Matt and Mark Whitley. Skippy's closed abruptly in early 2016 after it's original owner, Mike Rothman, was diagnosed with brain cancer. Unfortunately, Mike Rothman lost his battle with cancer in April. Skippy's was known for hot-dog pretzel buns and the Whitley's have honored that legacy. Read more here
16. BAR PINA
Bar Pina, Winston-Salem's only rooftop bar, opened in the fall of 2017. Owned by the folks behind Tate's, Bar Pina has inside and outside spaces, both with different offerings. Check out their Facebook page – or stop by and see their festive decor for yourself!
17. STEVENS CENTER UPDATE 

The University of Noth Carolina School of the Arts (UNCSA) Board of Trustees unanimously approved a concept master plan for The Stevens Center renovations this year. The facility, built in the 1920s, was last renovated in 1983. While the actual renovations are years away, "This concept master plan provides a detailed analysis of existing conditions, reflects the 'must-haves' of most campus and community stakeholders, and outlines realistic cost estimates to bring the facility up to current industry standards and building codes," Chancellor Lindsay Bierman said. Read more here
18. O'Briens Deli
Located in the heart of downtown on Fourth Street, OBriens opened their second location, serving lunch each day (including their famous Reuben!). They also offer delivery, meals to go and catering options.
19. ART FOR ART'S SAKE (AFAS) CENTER
This beautiful addition to our city is adjacent to the ARTivity on the Green park, completed two years ago by The AFAS Group. Housing all of the groups that comprise AFAS, there are galleries, studios and workshop areas to serve area artists and the public. Designed by Stitch Design Shop (they also call the third floor home), the AFAS Center recently took home the top award at this years AIA Winston-Salem Design Awards.
20. QUARRY PARK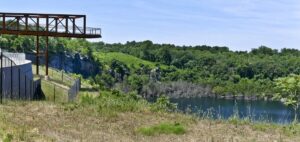 Winston-Salem gained a new park this year, located on more than 200 acres of land surrounding a former Vulcan Materials quarry. There is a greenway that connects the park to other bike paths along the Salem Creek Greenway. An overlook pier that extends over the side of the quarry offers views of the city skyline and the blue water of the quarry. Future improvements such as picnic shelters, playgounds and other attractions are possible in future phases. 
21. WSSU celebrates 125th anniversary
Since its founding in 1892, Winston-Salem State University has grown from a one-room frame structure to more than 39 buildings located on a picturesque 117-acre campus overlooking the woodlands of Salem Lake in the heart of Winston-Salem. The university is now number one in the UNC system for North Carolina job placement for graduates and number one in the UNC system for the average salary for triad-area graduates. 
22. Central Library
The revamped Central Library opened in late summer. With 106,000 sf of space, the new library offers more than 250,000 books, magazines, movies and other materials. There are 90 public computers with internet access, a 20-seat computer training lab, 289 seat auditorim and a demonstration kitchen and cafe. Read more here
23. Joymongers
Joymongers will be opening a second location in Winston-Salem in 2018.  There will be a barrel hall, for aging beers in wine and whiskey barrels, at the Winston location, however. They plan for 20 beers on tap and, like the Greensboro location, the new taproom will be family-friendly and have frequent food trucks and live music. 
24. Flow redevelopment of GMAC Tower
Without a doubt, one of the biggest newsmakers this year was the announcement that Don Flow had purchased the GMAC building downtown. With plans to bring all of his shared services employees under one roof on the tops floors, the remainder of the building will serve as space to cultivate new ideas, small businesses and continued growth and revitalization of Downtown.  Grubb Properties announced they will develop a mixed use site adjacent to the building. Read more here and here
---
Thank you for joining us all month as we celebrated some of the biggest news stories for Downtown Winston-Salem this year. It has been a wonderful year for us at Linville Team Partners and we are so grateful to be a part of such a vibrant community. We wish you and your families a wonderful holiday season and exciting 2018.