Cole Carns joined our team in June of 2017 as an Associate and assists our brokers with a variety of prospecting, development and research tasks, while also collaborating with the marketing team on listing and marketing materials. We sat him down and asked him a bit about himself and his background to help everyone get to know him!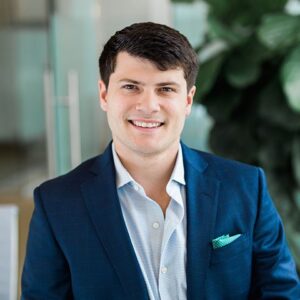 Tell us a little about you and your family. 
I grew up in Richmond, Virginia. I graduated from High Point University in 2017 where I played varsity lacrosse and served as a "big brother" for Big Brothers, Big Sisters. I have three sisters – Lindsay (25), Anna Grace (14), and Caroline (11). I am an uncle to my older sister's three children, Berkley (3) and twins Jacob and Talley (11 months). 

If you had millions of dollars, what would you do every day?
If I had millions of dollars, I would start by investing my money in real estate and development projects. I would spend my days playing golf and traveling. One day I would like to travel throughout Europe and the Caribbean.  
What are your interests when you are not in the office? 
I enjoy playing golf and tennis and going to breweries around North Carolina. A couple of my favorite breweries are Sierra Nevada and Wise Man!
What drives you in your work? 
I am a very competitive person. By playing sports while growing up and in college, competition and winning has been a big part of my life. I like to treat work like it's just another competition.
Tell us about your involvement with Big Brothers, Big Sisters.
I got involved with Big Brothers, Big Sisters while at High Point University. The entire lacrosse team was involved in the program. I had the same "little" from when he was kindergartener to a third grader. The thing that kept me going back was knowing that my little did not have many role models in his life and I could tell that he was really benefiting from our time together, as was I. I enjoyed  seeing how he changed, becoming a great student and person during the four years I got to spend forming a relationship with him.
What area of Commercial REal estate are you most interested in learning more about as you start off?
I am most interested in the development and investment side of commercial real estate. I think it is exciting to see how commercial real estate investments can provide an additional stream of income for investors. And development is fascinating to me because it allows you to be in control of a property from start to finish, making each project your own. 
When do you remember 
FIRST 
being interested in real estate?  What drew you to commercial real estate rather than residential?
My dad, uncle, and grandfather have always been involved in real estate investment and have developed several buildings in Richmond, Virginia and the Carolinas. Seeing them do this when I was in high school, I knew I wanted to be involved with commercial real estate full time and not have it just be a hobby. Because my family never dealt with the residential side of real estate, I never really gained an interest in it and naturally gravitated toward the commercial side of things.  From high school on, my focus each summer was being involved in real estate as much as possible.
You interned during college with a CRE firm, how did that experience, in addition to your schooling, benefit you in your career choice?
Working with a local CRE firm in Richmond I got to see how the CRE world really works. Getting licensed while in college was a great learning tool for me to be able to get first-hand experience in brokerage that several of my classmates that were not licensed never got to experience. At High Point University, I took several Real Estate Investment classes that taught me a lot of the terms and formulas I use every single day in the office when focusing on investment properties. After interning and taking the classes in college I knew 100% that CRE was the career path for me. No other career gave me the opportunity to meet new people all the time and to be able to help people in their personal growth in their businesses or investments.
We are so excited to have Cole join our LTP family! We are confident he is going to learn a lot as he begins his commercial real estate career at Linville Team Partners. Help us warmly welcome him!