Typically when we hear the word architecture, we think about the design and function of buildings. Even Merriam-Webster defines architecture as "the art or science of building; specifically, the art or practice of designing and building structures and especially habitable ones." Recently, we have seen the notion of architecture expand beyond this traditional definition to encompass the role architecture has in the design, function, and use of outdoor spaces. Hence, the "architecture of parks".
Just as the idea of architecture has evolved, so has the purpose behind parks. Parks no longer merely serve the purpose of preserving green-space in cities, but instead act as a piece of the public domain and aim to influence our urban experience. Architects are now designing outdoor spaces to connect the community and a provide a venue for everyone to participate.  
STITCH Design shop, a local architecture firm, has designed three parks in Winston-Salem all of which were thoughtfully engineered to participate in Winston-Salem's community shaping. These three parks are ARTivity on the Green, Bailey Park, and Quarry Park. Bailey Park and ARTivity on the Green are privately owned urban parks in downtown Winston-Salem, while Quarry Park is a publically owned park just outside of downtown (with awesome views of the skyline!).
Below, Ben Schwab and Pete Fala from STITCH, describe how the park architecture was designed to entice people to participate in the community and to influence local culture. Their attention paid to even the smallest of details is impressive, albeit not surprising, given the nature of their work (read about their thoughtfulness in designing our office here).
---
HOW DID YOU ALL GET INVOLVED IN DESIGNING PARKS AND HOW IS IT A DIFFERENT PROCESS/CREATION FROM TYPICAL REAL ESTATE ARCHITECTURE?
The initial park project for STITCH was Bailey Park where we had the opportunity to work with the Wake Forest Innovation Quarter and Stimmel Associates.  It was a great experience and a project we are very proud of.  It is very rewarding to work on a public project that an entire community is able to experience and hopefully take pride and ownership in.
WHAT MAKES DESIGNING A PARK FUN FOR YOU?
It is so much fun to experience these parks with our friends and family.  It is a unique experience to be involved with the design and construction phases and then sitting on a blanket at Bailey Park or ARTivity on the Green with your family watching a concert or modern dance- pretty awesome!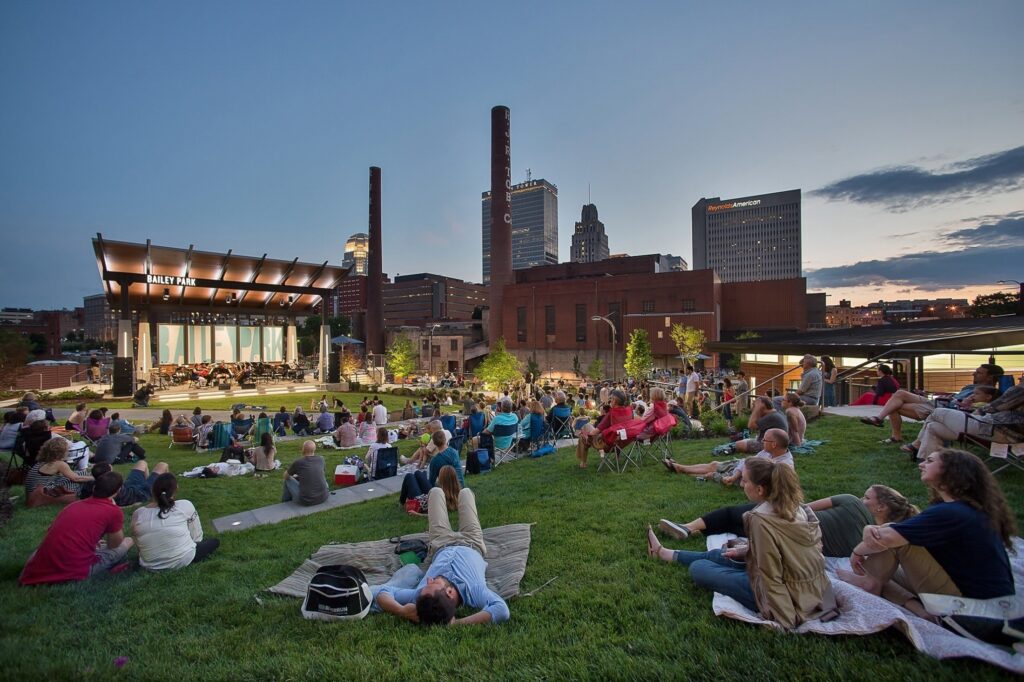 WHY IS IT IMPORTANT TO HAVE WELL-DESIGNED PARKS IN BOTH THE URBAN CORE AND AROUND THE CITY THAT IS ACCESSIBLE TO THE ENTIRE PUBLIC POPULATION? 
These parks are critical in recruiting the companies and talent that Winston-Salem wants as they provide a tangible example of the quality of life we have here.
HOW IS OUR DOWNTOWN IMPACTED BY THESE URBAN PARKS?  
Vitality. They provide a reason for people to come downtown and experience the parks and discover something unexpected along the way or maybe run into someone they know.
SINCE YOU HAVE RECENTLY MOVED YOUR OFFICE DIRECTLY ABOVE ARTIVITY ON THE GREEN, HOW HAVE YOU WITNESSED ITS EFFECT ON THE AREA?
We have seen it all from wedding photos & prom pictures, hammocks, selfies in front of the mural wall, art classes, acroyoga, live dance performances and a few things we probably shouldn't mention.  Nisha, one of our designers, has an Instagram feed that gives you a glimpse of the copious amounts of selfies that are taken at ARTivity on a daily basis.  When the park opened a couple of interns conducted an analysis for ARTivity on the Green, as well as Bailey Park, that included observing how people were using the park.  Where were they sitting? What were they doing?  What is the percentage of users based on age, race, & sex and how all these things vary based on time of day, programming and many other factors.  It is a unique experience for us to see how the design and function of the parks are used in comparison to how the team imagined in the design process.
-Ben Schwab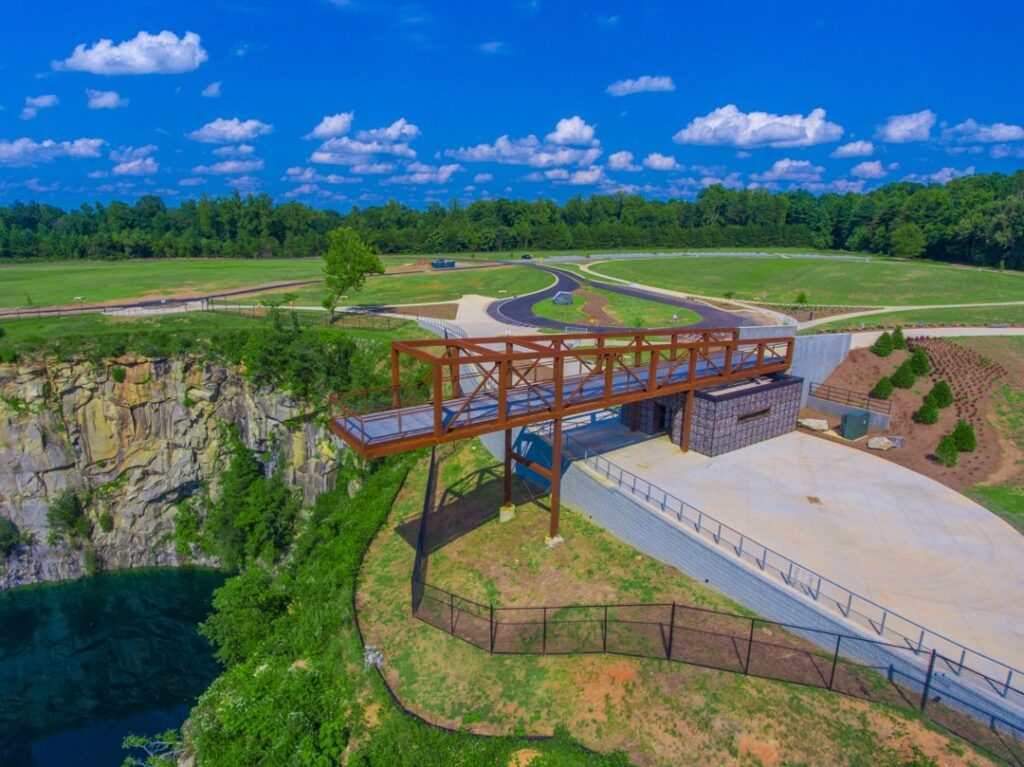 HOW WERE THE THREE DIFFERENT PARKS (BAILEY PARK, ARTIVITY ON THE GREEN, & QUARRY PARK) DIFFERENT IN APPROACH, FUNCTION, ETC.?
Bailey Park and ARTivity on the Green are similar contextually, ARTivity is perhaps more whimsical and playful where Bailey is more formal and focused.  Quarry Park takes full advantage of the natural setting and panoramic views.  The goal was to capitalize on the natural resource, the quarry and the views are the show, we just needed to help frame it.   Every park project is unique and approached accordingly, which is why they are so fun to design.
IS THIS A GROWING NICHE OF ARCHITECTURE AND/OR FOCUS FOR URBAN AREAS?  
Yes, we are seeing a lot of investment being made in urban parks from both the public and private sector.  Urban parks provide a place for people to recharge and engage with their community, they are the spot of reprieve from the day to day that pay dividends for private businesses and municipalities.
-Pete Fala
---
Even as many major parks are privately owned, such as ARTivity and Bailey, the design and programming is such that they invite the entire community to engage with each other and enjoy the open space the parks provide. These investors, such as Harry Knabb of Art for Art's Sake (AFAS) for ARTivity on the Green and Wexford Science and Technology in conjunction with Wake Forest Innovation Quarter for Bailey Park, spend significant funds on spaces that are non-revenue producing. They do so realizing that they are contributing to the betterment of their community and they should be commended for those contributions.
With the contributions of these investors, we have borne witness to the development of these parks in Winston-Salem, and we have seen the community and activity develop in accordance. Events such as local music, free yoga classes, and food truck Fridays have become regular occurrences in these spaces and are moments that draw the community together in one space.
As with many other signature parks either locally or nationally, these parks are already beginning to take on a 'personality' for how they impact the community and visitor interaction. We look forward to watching how these parks embrace the vibrancy and rapid change of downtown Winston-Salem's continued rebirth.