An Interview with Jim Jones
Owner of Joymongers Brewery
I grew up on Runnymeade Road, across Hanes Park and up the hill from the West End Neighborhood. I have many memories as a child of walking around the lower West End Business District and playing in Hanes Park. This is one part of town that for many goes unnoticed, but I believe that Hanes Park and the West End retail area are two of Winston-Salem's greatest assets and best kept secrets. I have seen the changes and growth that has come to the area over the years and I am convinced that this area is poised for exponential growth. West End is home to The Tap (Princes on the Park when I was a kid!), Carmine's 901 Grill, and a number of fun smaller retail spaces, with The Porch and Hoots just across the creek. With these additions, there has already been a lot of life breathed into the area. 480 West End, known by many as the old CrossFit space, is right in the bull's eye there and is the future home of Joymongers' Barrel Hall.  -Aubrey
We spoke with Jim Jones, one of the three owner/operators of Joymongers, about what he loves about beer, what makes him excited about their second location in Winston-Salem, and what we can expect from Barrel Hall. Before the interview started in full force, Jim said to me, "We're a brewery, but we are all about community." This was the message that rang loud and clear throughout the entirety of our conversation and is precisely what makes it so clear that Barrel Hall will bring something amazing to West End.
---
WHAT INITIALLY GOT YOU INTERESTED IN DEVELOPING A BREWERY?
I was a Chevy dealer for 25 years – 3rd generation in the business and our dealership was always in downtown Greensboro. As my brother and I progressed through the car business, we felt there were better and higher uses for the piece of property the dealership was on. So in 2004 we sold the franchise, and we took that money and bought that piece of property from our dad. We spent seven years trying to figure out how to maximize that piece of property. You know our family is interwoven into the fabric of Greensboro literally; both of my grandfathers had worked in the cotton mills in Greensboro as kids, so it was important to us that we developed that sensitively. Long story short, we developed that property- delivered 264 luxury apartments downtown because we know what makes a thriving downtown is people living there, not just commuting in and commuting out.
So when we got done with that project, I began looking for something else to do, I'm not a lay on the beach kind of a guy. My son was in the health benefits business, which wasn't what he wanted to do, and I had a friend in Mike Rollinson, who I knew was an incredibly talented brewer. So, I asked Mike if he would be interested in partnering with us in developing a brewery if I could put a deal together. And that is what we did! It took us about two and a half years from first starting to talk about it to opening on July 1st, 2016.
It is everything I couldn't do in the car business. It is all that customer service experience as well as delivering an incredible quality experience for people who are in the mood to have a good time. I had spent seven years watching the scene in Asheville grow, and I knew if we had a great product and great location and if we gave great service, we would be successful.
JOYMONGERS HAS BECOME SUCH A KEY PART OF THE FABRIC OF GREENSBORO OVER THE LAST YEAR. WHAT DREW YOU TO LOOK AT WINSTON FOR YOUR SECOND LOCATION?
Other than creating beer, what we enjoy about the beer business is creating relationships. We like being a community center; we like having dogs and kids and toddlers and moms and dads and the entire demographic at different times of the day. So it was clear to us that our business model was not going to incorporate going wholesale with our beers, but would instead be about finding a second location to sell our product.
As we thought about that, we thought: "What if we created a new center of gravity; a new approach to our beer in another great city". So we visited just about every city and small town around us- looking at the real estate, looking at the market, and getting a feel for the flavor of the city. And when we visited Winston it became clear to us that Winston had similarities to several of the things we love about Greensboro, but it also brought it's own feel. And the more we looked at it, we thought: "this is really go big or go home." We knew that we needed to bring the same passion and intensity to our new home. So instead of just opening up a small taproom to sell our beers, the idea for Barrel Hall was born.
WHAT WAS IT ABOUT 480 WEST END BLVD. THAT MADE YOU CERTAIN THIS WAS THE RIGHT SPACE FOR BARREL HALL?
Once we knew where we were looking, it became clear to us that there were limited options because real estate was so hot, especially in downtown Winston-Salem. We felt very fortunate to find the old CrossFit building in West End. We loved that it was right in the middle of a wonderful historic neighborhood. West End has its own little commercial strip and feel. We loved that we would be right in the midst of people who really lovingly take care of these fantastic late 1800's to early 1900's homes, where they have great community, where they do things together, and where kids grow together. While there is a ton of really cool growth right downtown, we are partial to a wagon train of baby carriers, and moms, and dads, and neighbors streaming down the street to us, which is what we think we will find in West End.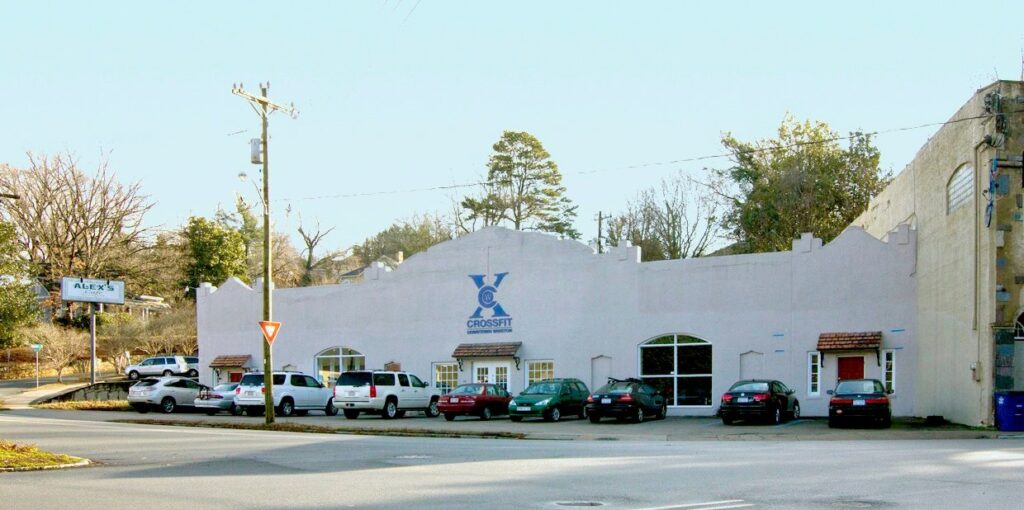 MANY PEOPLE MAY NOT KNOW THIS, BUT 480 WEST END BLVD. WAS INITIALLY ON THE MARKET FOR LEASE AND THEN YOU DECIDED TO BUY. WHY IS THAT?
It is really pretty simple. It came down to the investment we wanted to make. To upfit that building and bring it to the level that would make it Joymongers' Barrel Hall, it was just too much money to put in a building we didn't own. The previous owner had really taken good care of the building, but the building is almost 90-years-old. We are in a historic neighborhood in a building that is not historically designated, but it still deserves to be treated that way. It takes a lot of work to really do it right, and we wanted to be able to do that work. We have found that it is an honor to be part of investing in the fabric of the community in this way, and we are excited about creating something really special for our new home.
---
"We have found that it is an honor to be part of investing in the fabric of the community in this way, and we are excited about creating something really special for our new home"
---
WHAT IS YOUR VISION FOR BARREL HALL?
The name Barrel Hall represents that while we will still be brewing all of our beer in Greensboro, we will be creating new beers in Winston, where we will be running our expanded barrel-aging program. For those that are not craft beer aficionados, barrel-aging is what happens after you brew your beer, when you transfer the beer into barrels for the aging process. You can use wine, whisky, or really any kind of barrels that have interesting flavors and will impart some of these notes into the beer. Our Winston location will be dedicated to this process, which actually makes it a lot rarer than a new brewery. There are just a handful of breweries with dedicated barrel aging locations in the whole country, in the whole world even; so Winston-Salem is going to have something that very few other cities have. We will also be doing some infusions at Barrel Hall like we do in Greensboro. With the infusions, we take everything from chocolate to fruit to vanilla to peppers and infuse the beers with that.
So when you come into Barrel Hall, it will be a big open space with lots of room for mingling. We are demoing the newer hardwood floors back to the original concrete garage floor. We will also be going back to the original brick. The space will include a big bar- a really big bar! We are focused on being able to deliver a lot of beer fast; no one likes having to stand in a long line. We will have a ton of communal tables, which is a little different than what we did in Greensboro; we hope it encourages people to make new friends in their community. We will also have some smaller tables scattered throughout too. We will have a top notch sound system, like we do in Greensboro, and local music is going to be a big part of what we do. We will have our barrels stored out in the open space for the aging process.
Our hope is that if you live in Winston, you are going to have a different experience and a different group of beers than that of our Greensboro location. We will still have some of our popular IPA's and a bit of crossover, but we will have a whole menu of beers that won't be in Greensboro. And when you go to Greensboro, there will be a whole host of beers that you don't have in Winston. Our two locations are 30 minutes door to door, so if you live somewhere close to either one of them it is pretty easy to say "you know why don't we run over to Greensboro tonight?" or vice versa. We want each location to be complimenting what is happening at the other.
I HAVE HEARD A LOT OF TALK ABOUT STRENGTH IN NUMBERS WHEN IT COMES TO BREWERIES, AND THAT SEEMS TO MIRROR WHAT IS HAPPENING IN WINSTON. IS THAT WHAT YOU'VE SEEN IN THE GREENSBORO BREWERY MARKET?
We really do see this as a trend nationally. I'm going to give you an example: there is probably no more competitive industry in the world than car sales. And when you look at the car sales market in about any city, you will see that the dealerships are grouped together on the same street if they can be, even though they are intense competitors. And the reason for that is it provides great opportunity for people to try your product and try different products easily and therefore you tend to attract more people.
The craft brewing business is even more so this way because it isn't a dog-eat-dog competitive world. You can buy a five-dollar beer from us, but that doesn't mean you are not going to buy another beer for six years. So there's no real competition between us all. Craft beer is still less than 12 percent of the total beer market. So that is 88% of the market left over. And while craft brewing is never going to get to 100% of the beer market, there is still a tremendous amount of room for growth for all of us.
If you think about it, there are now over 30 breweries in Asheville, which only has a population of about 89,000. In the Piedmont-Triad, we have about 1.6 million people and there aren't nearly as many breweries as there are in little Asheville. And while we don't have the same type of tourism industry as Asheville does, there are still plenty of beer drinkers within that 1.6 million; some of them are already craft beer drinkers and some of them don't know that they are craft beer drinkers – yet.
We expect all the other breweries to do better when we get to Winston. That's what happened when we opened in Greensboro, not because we are so smart or wonderful or anything, but because it is not a zero sum game. Everybody should benefit when all of us work together to make the market better.
IF YOU COULD TELL WINSTON-SALEM JUST ONE THING ABOUT BARREL HALL BEFORE IT OPENS, WHAT WOULD IT BE?
I would want people to know that our whole goal is to be as big a part of the fabric of Winston-Salem as we have come to be in Greensboro. We are not a chain. We don't have any plans beyond these two breweries. Winston and Greensboro will be the only two places in the world where you can drink Joymongers beer. There are just three owners and we believe that owners should be involved every day. We look forward to hiring the best bartenders, the friendliest people! We love our customers and we get that you have a choice when deciding where to spend your money. The thing that is most important to us is making people happy. Our motto in Greensboro has been: "spreading joy one pint at a time" and that is part of our name, Joymongers, and that is what we want to bring with us to Winston.
We are so excited for what Jim is bringing to the fabric of Winston-Salem with the opening of Barrel Hall. Be sure to grab a beer there when they open in early Spring of 2018!