Happy December, and welcome to day one of LTP's 12-day holiday countdown! In continued celebration of LTP's ten years of success, this year's countdown will highlight local events that have contributed significantly to the meteoric rise of Winston-Salem over the past decade, starting at LTP's beginnings in 2012 and ending with the 2023 new year. Check back daily over the next twelve days for some nostalgia fun.
Day 1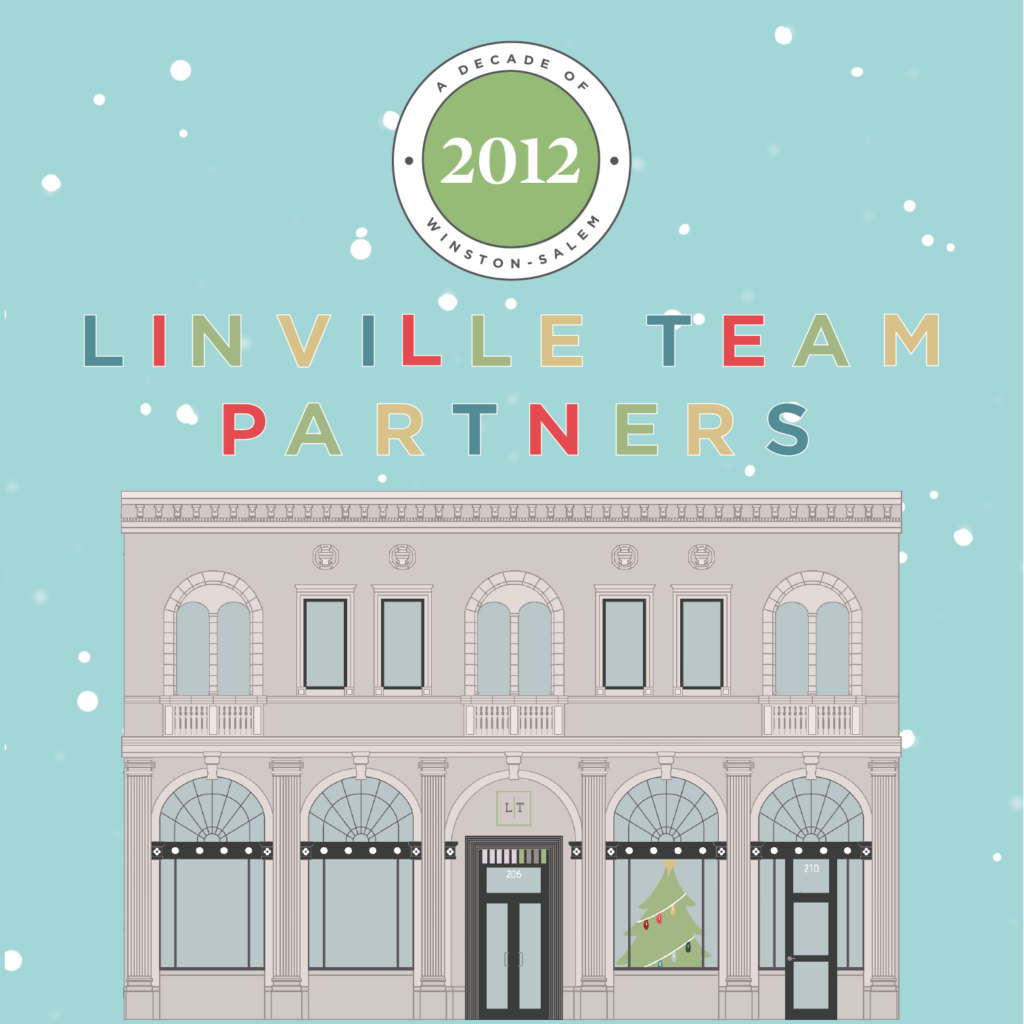 It's November 2012, and founders Aubrey Linville and Coleman Team realized a gap in local markets and offerings, thus began Linville Team Partners. With a spirit of entrepreneurship and a passion for providing superior relationship-based service, the two founders and their team set out to help revitalize downtown Winston-Salem. Ten years later, the renovation of many old buildings and the introduction of hundreds of new businesses fulfilled the dream of a reimagined Winston-Salem.
Day 2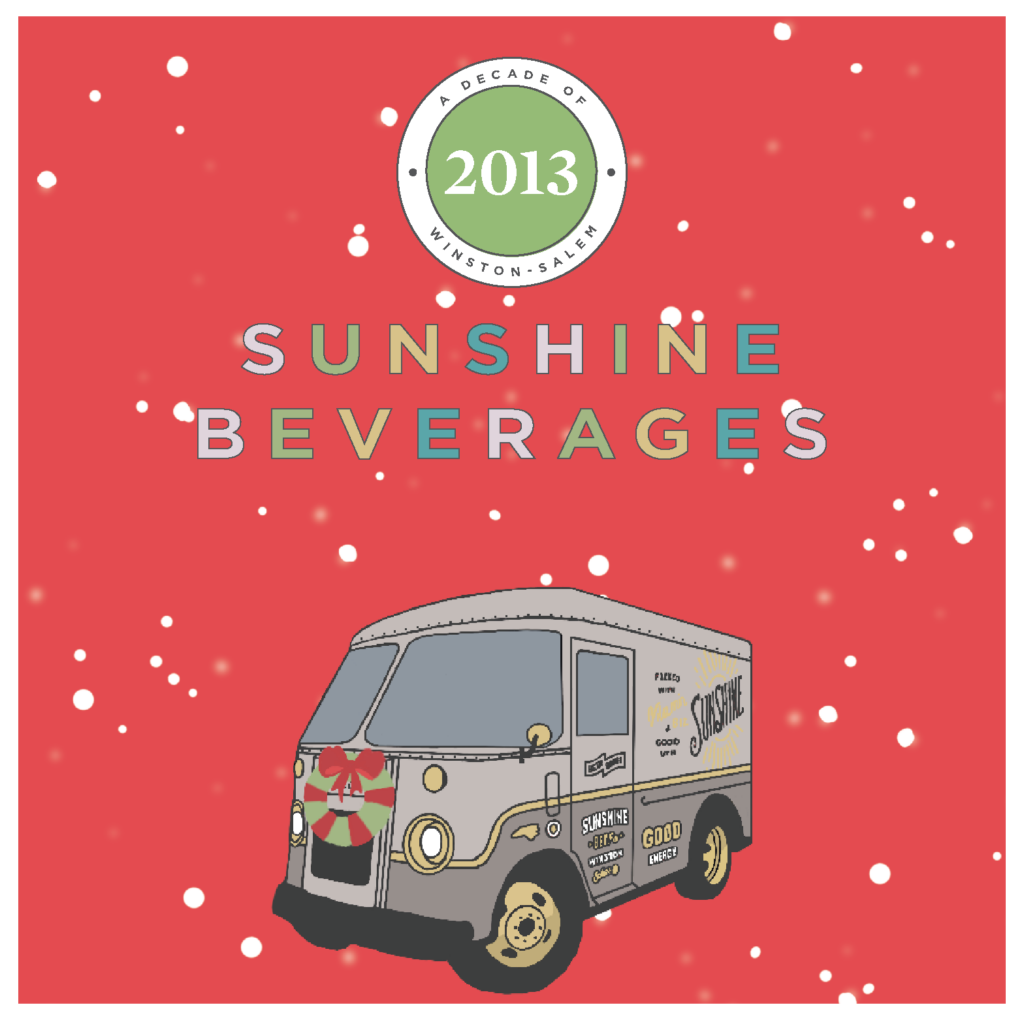 Sunshine Beverages truly embodies the innovative and entrepreneurial spirit of Winston-Salem. Unlike other energy drinks that contain large amounts of caffeine and tend to cause jitters, Sunshine offers drinks with vitamins, electrolytes, and caffeine in a cup of coffee. After identifying an untapped market within the functional beverage category, Sunshine Beverages brought a single eight oz product to the local market in 2013 called Buck O'Hairen's Legendary Sunshine Beverage. They have since repackaged and rebranded their original product, added additional energy drink flavors, launched a new line of energy waters, and expanded into more than 3,500 stores nationwide.
Day 3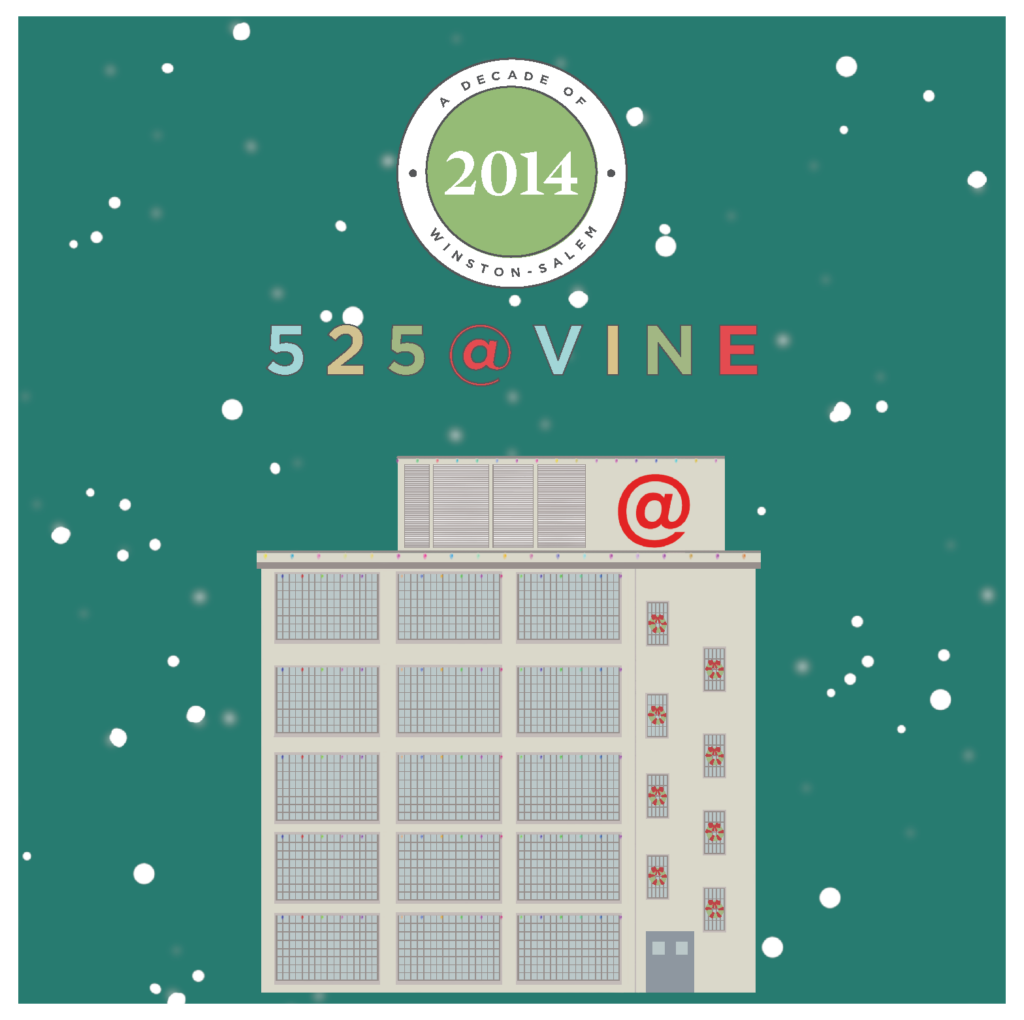 In 2014, Winston-Salem's revitalization began to catch momentum with the introduction of Gears & Guitars, an official slogan, and the grand opening of the newly renovated 525@Vine. 525@Vine is a former RJR tobacco factory in the heart of Innovation Quarter and is now a mixed-use lab and office building. Many of the former factory's features remain post-renovation. Even the new windows are duplicates of the building's originals. Today, 525@Vine is an opportunity for any company to find its spot in one of the fastest-growing urban innovation districts in the United States.
Day 4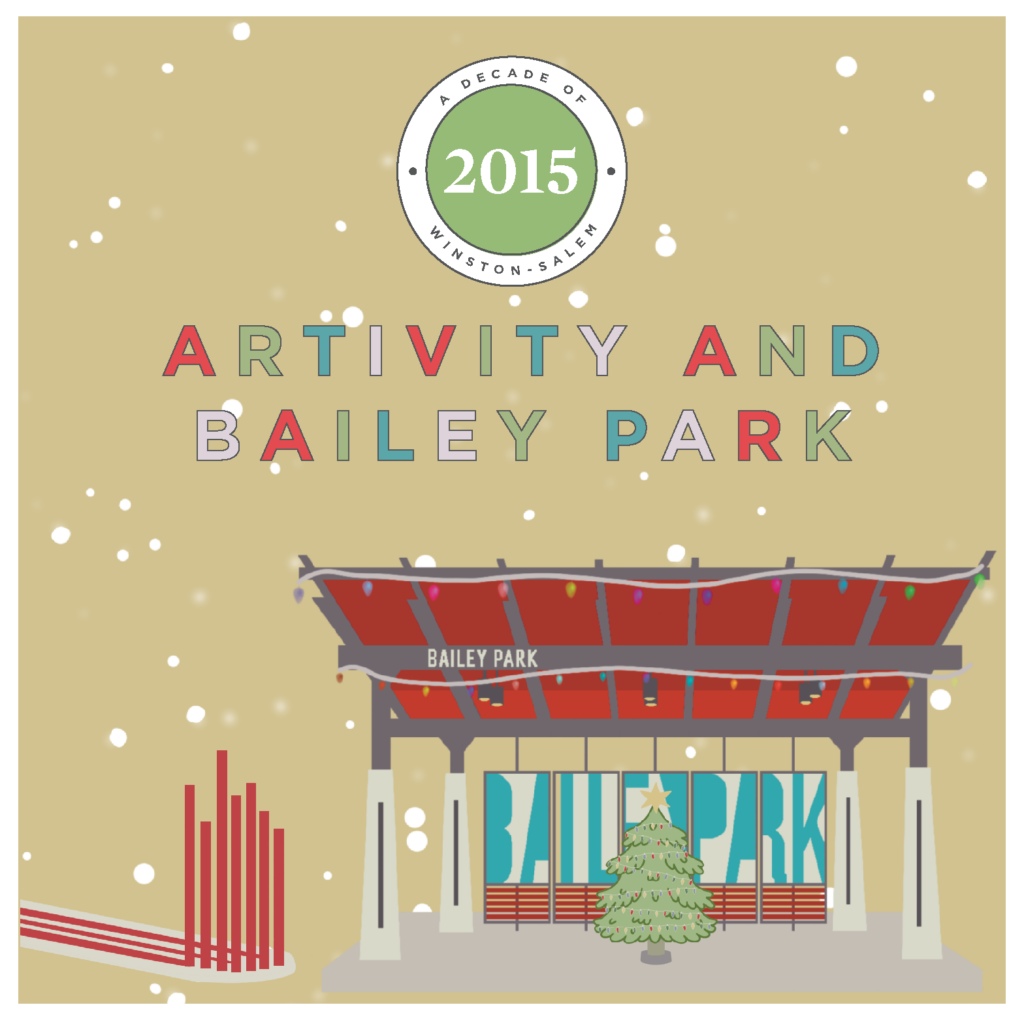 In 2015, two urban parks had grand public openings: ARTivity on the Green and Bailey Park (in Innovation Quarter). They are notable past decade projects created by STITCH Design Shop, a local architecture firm. In a previous LTP blog post, Pete Fala from STITCH answered our questions about these urban parks. When asked how these parks impact our downtown, Pete Fala said, "These parks are critical in recruiting companies and talent… as they provide a tangible example of the quality of life we have here. They provide a reason for people to come downtown and experience the parks and discover something unexpected along the way or maybe run into someone they know."
Day 5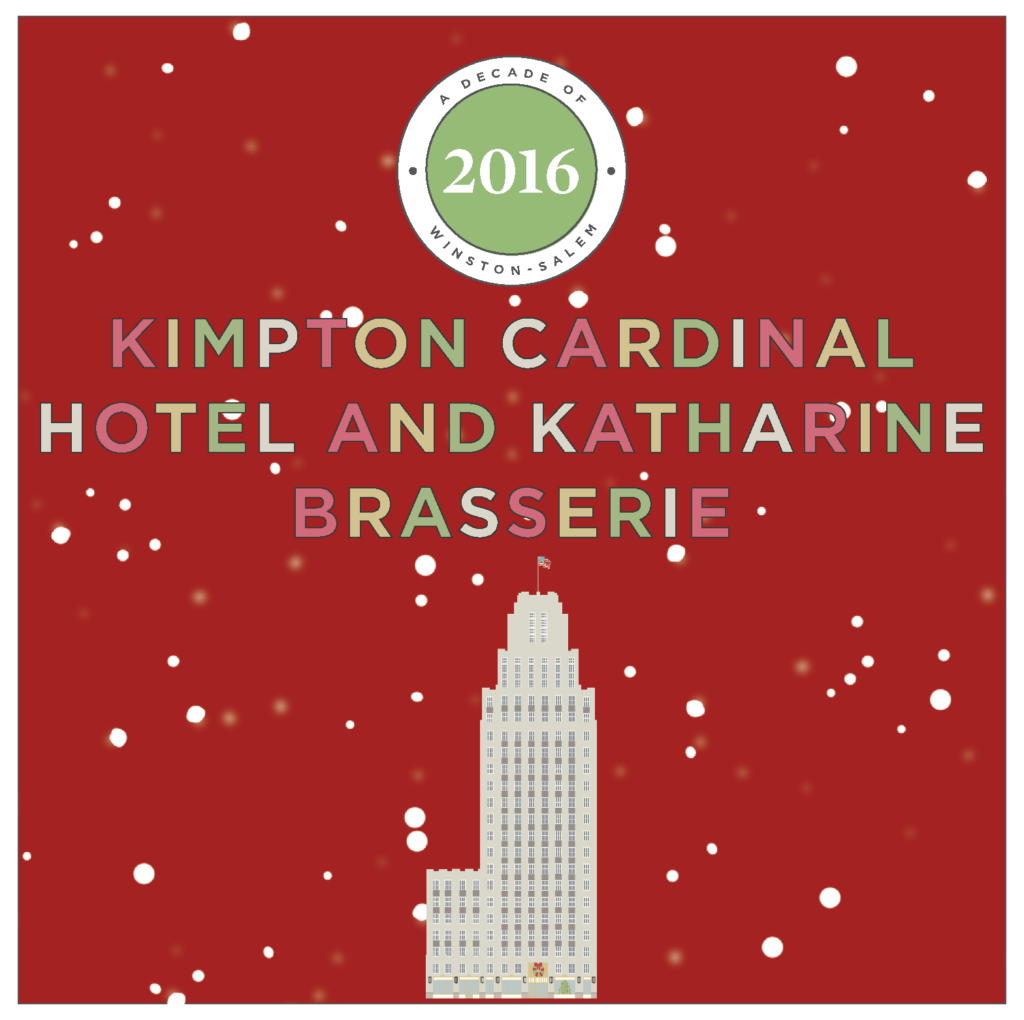 In 2016, downtown Winston-Salem's historic R.J. Reynolds building opened its doors to the reimagined Kimpton Cardinal Hotel and Katharine Brasserie. The building is the architectural inspiration for the Empire State Building and is once again an endearing icon in the Winston-Salem skyline.
Headquartered in Winston-Salem, Strickland Brothers 10-Minute Oil Change is a growing drive-thru oil change and automotive maintenance and repair service brand that began in 2016 with just three locations. Since its beginnings, the local chain has taken its name to a national level. Strickland Brothers is now a multi-million dollar company with over 325 corporate and franchise stores in more than 20 states is among the nation's fastest-growing franchises.
Day 6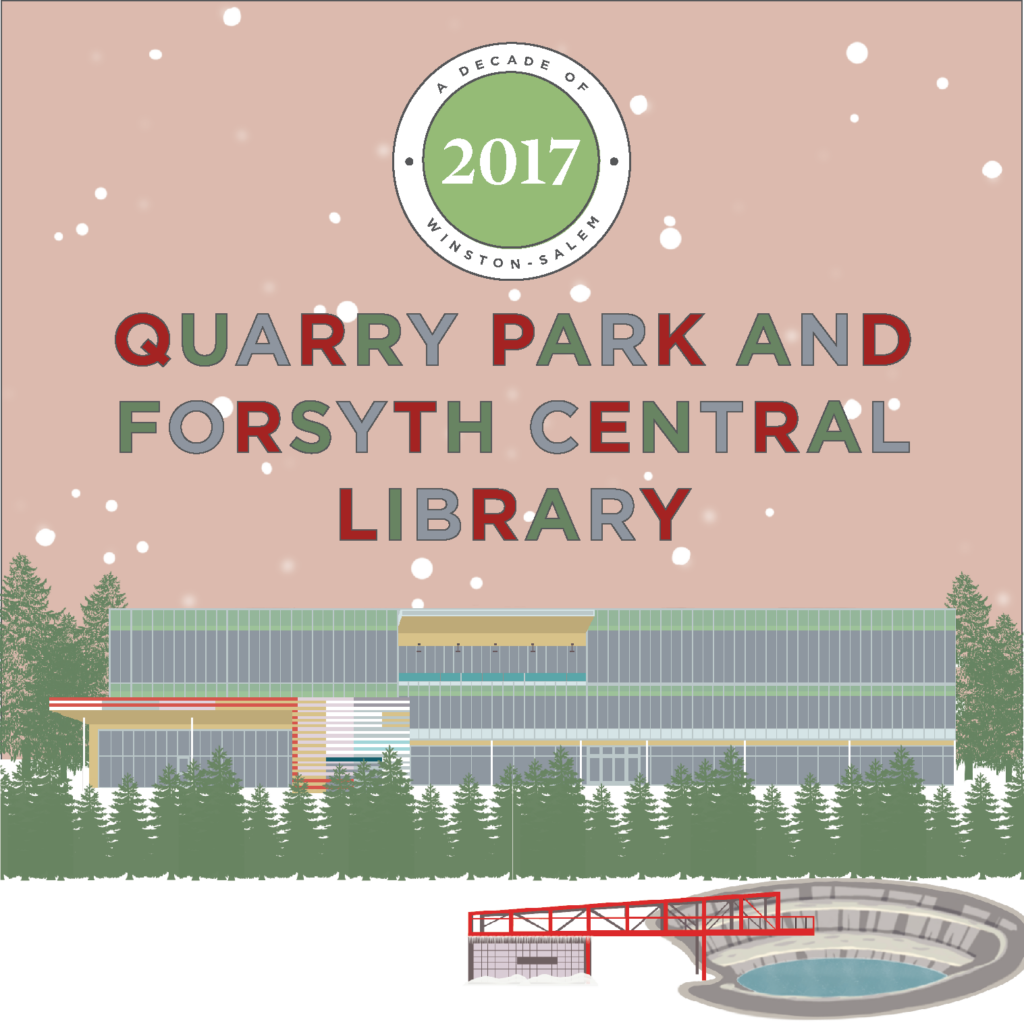 In 2017, many of the city's big projects came to a close and celebrated grand opening celebration. Quarry Park is the site of a former Vulcan quarry and is now known for being one of the best scenic overlooks and views of downtown Winston-Salem.
The new Forsyth County Central Library opened on Fifth Street as the state's most modern and high-tech library offering new features to the public like an audio production room, a meeting room with assistive technology, and an open-air terrace.
Other notable events from 2017 include:
Day 7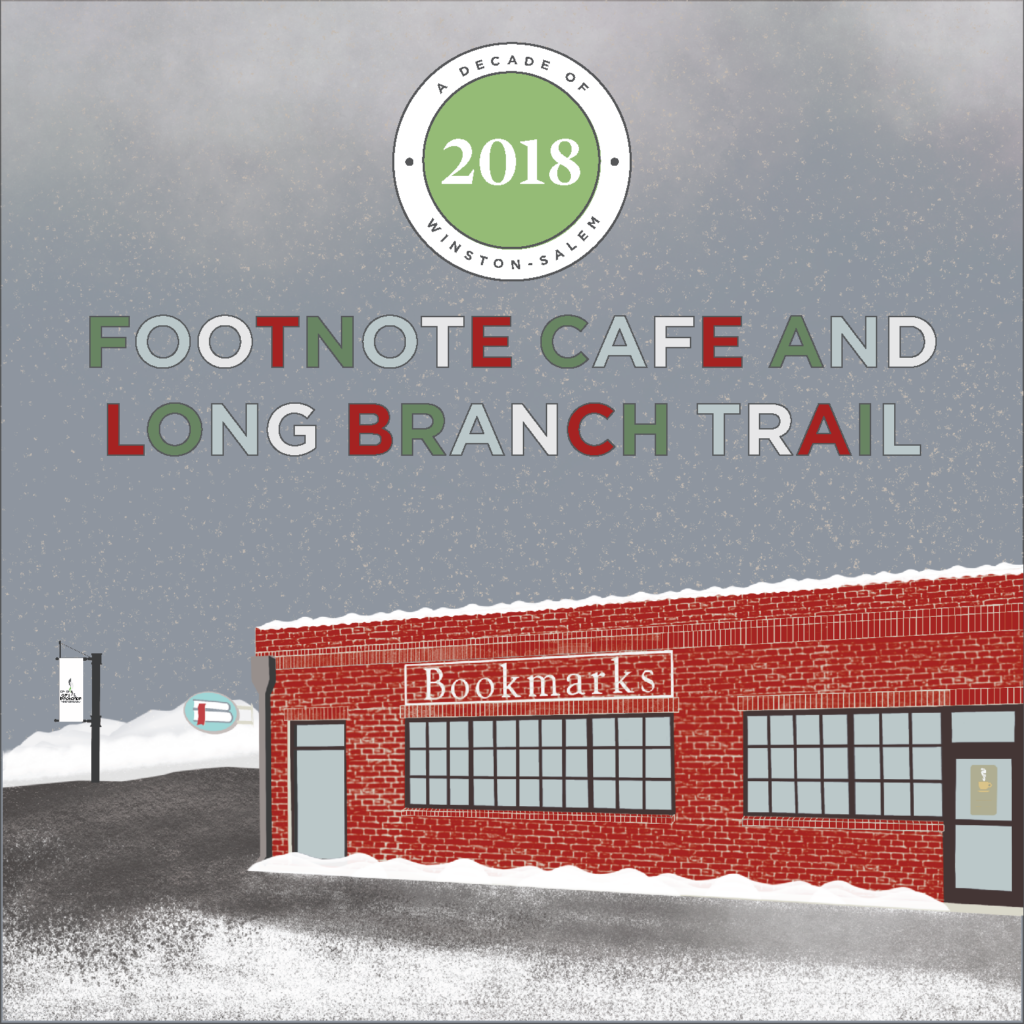 In 2018, Foothills Brewing began brewing more than just beer and opened Footnote Cafe, a coffee shop, bar, and event space between Foothills Brewing pub and Bookmarks bookstore in the Nash Building. The concept supports Bookmarks nonprofit, which opened one year prior and shares the building space with Footnote.
Long Branch Trail, formerly the Norfolk and Western Railroad, joined the Innovation Quarter in downtown Winston-Salem as a paved 1.7-mile trail in April of 2018. Its name, Long Branch, comes from the old African American neighborhood that occupied a significant portion of the present-day innovation district. The trail invites walkers, joggers, cyclists, dog walkers, and push strollers. Given its location right in the heart of an economic hub, it's a convenient conduit for employees and students to move around the Innovation Quarter.
Other notable events from 2017 include:
Read more about the Brewery Boom in Downtown Winston-Salem.
Day 8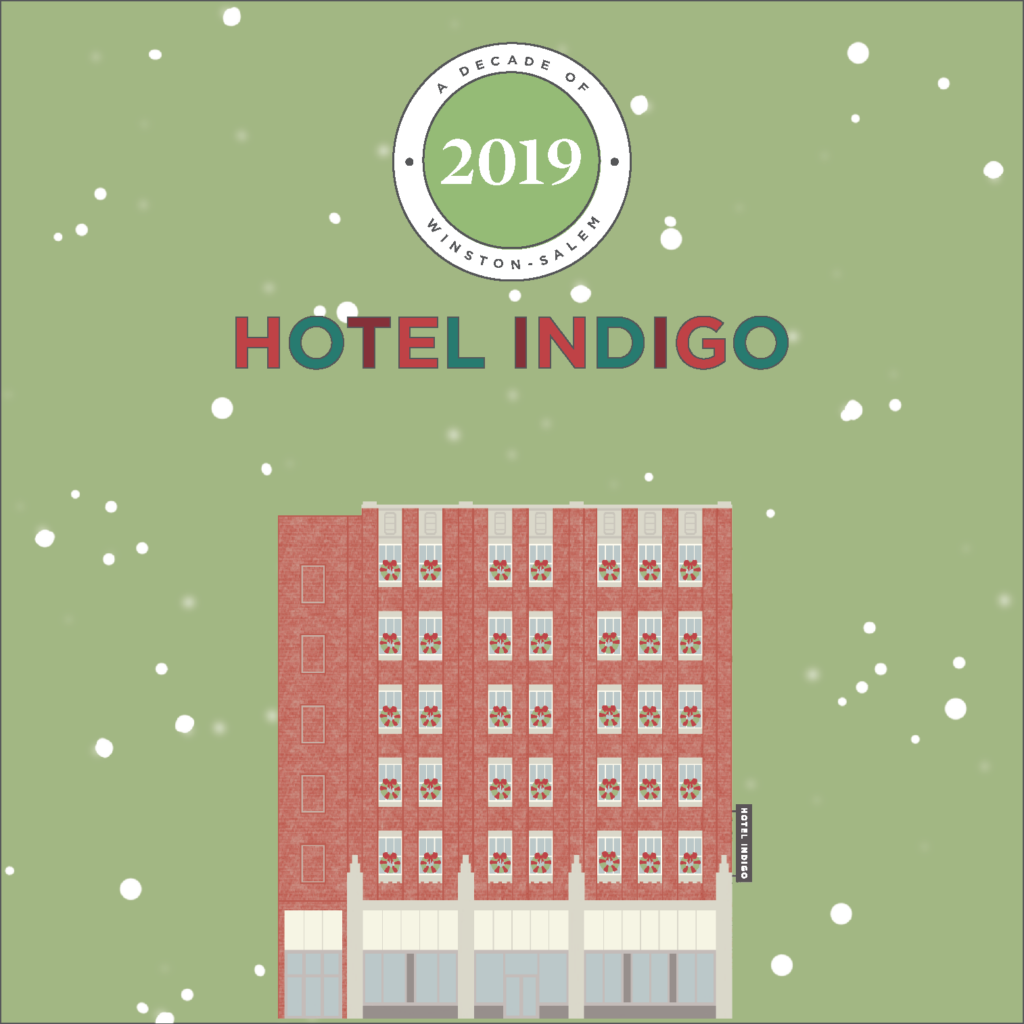 In 2019, Hotel Indigo Winston-Salem Downtown opened its doors in the historic Pepper Building after revitalizing the 1928 art deco landmark. The property also opened Sir Winston Wine Loft and Restaurant, paying homage to Sir Winston Churchill and the original Sir Winston restaurant, which occupied the location for more than 20 years as a once-popular eatery. Before 2019, the Pepper Building sat idle for 25 years.
Hotel Indigo is a global portfolio of unique boutique hotels under the InterContinetal Hotels Group (IHG) umbrella.
Other notable events from 2019:
Day 9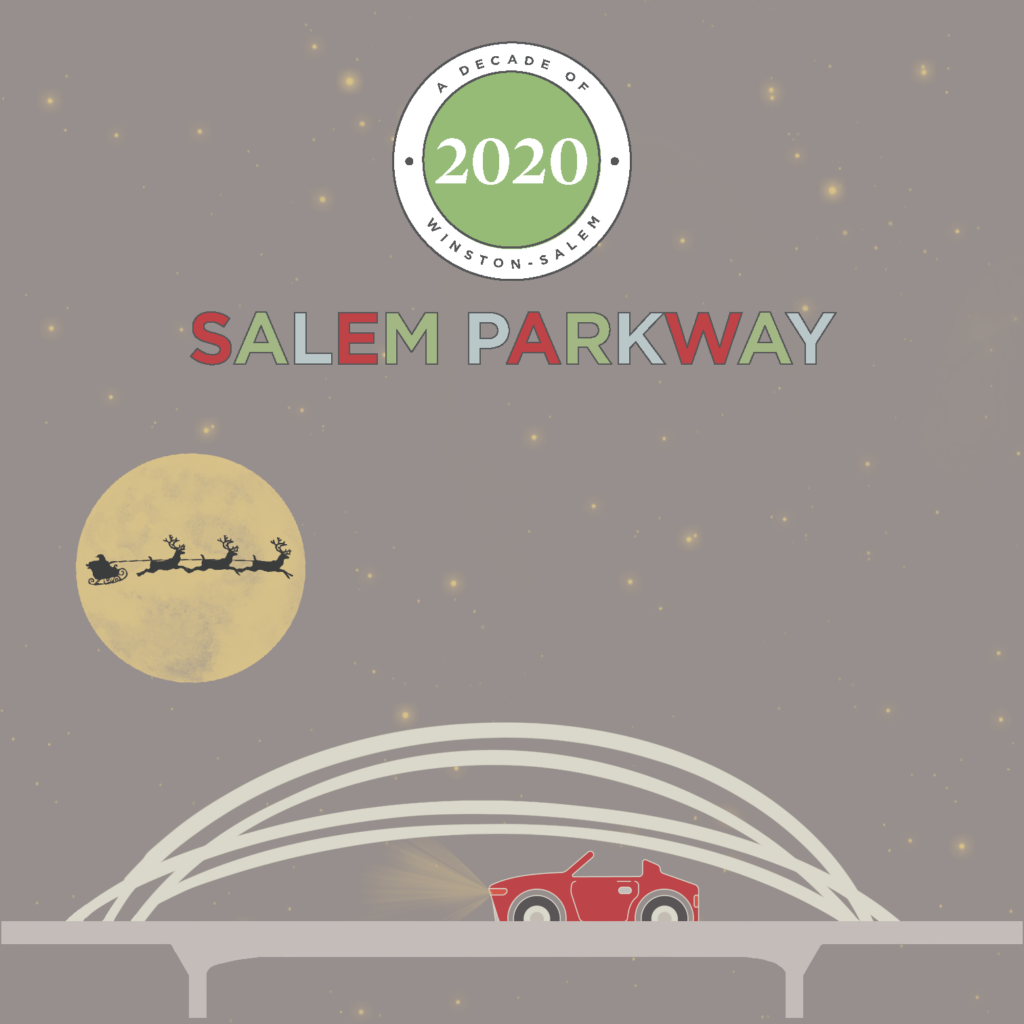 Beginning in November 2018, a 1.2-mile-long section of the freeway in downtown Winston-Salem between Peters Creek Parkway and US 52 was closed for reconstruction. The Business 40 designation changed to Salem Parkway, chosen by popular vote in 2016. The name change went into effect on February 2, 2020, when the road reopened. In 2021, the Salem Parkway project won the National Engineering Award. It was one of just 16 out of 173 nominees nationwide to win a Grand Award in the national 2021 American Council of Engineering Companies Engineering Excellence Awards competition.
Other notable events from 2020:
Day 10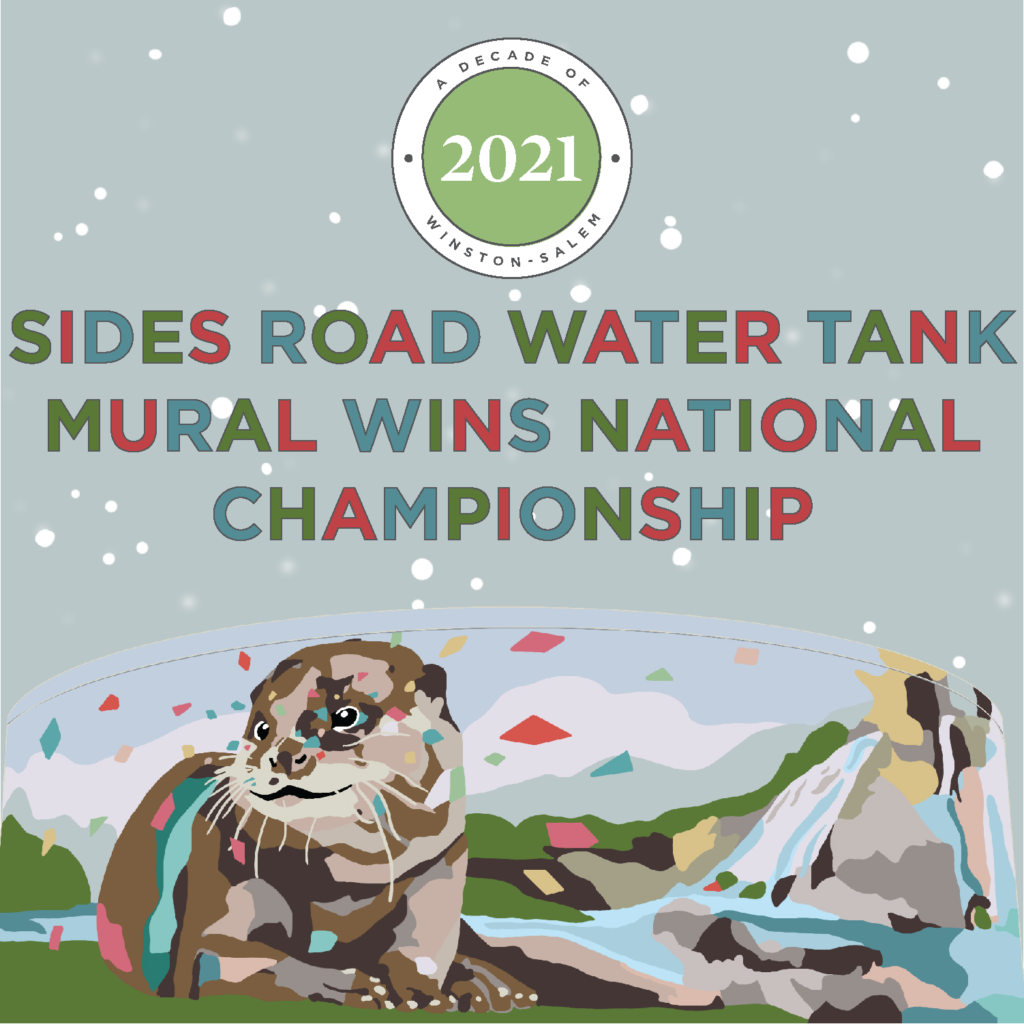 Where else would you find a 50-foot-tall water tank mural of an American river otter than Winston-Salem? Although it may seem random, Otters are native to the Yadkin River, which serves as the region's primary water source. The mural debuted in 2018 by artist Daas and is visible to roughly 25,000 drivers daily, according to the city. In 2021, the mural won the national championship in a contest celebrating the accomplishments of public water systems across the country.
Other notable events from 2021:
Read more about Industry Hill.
Day 11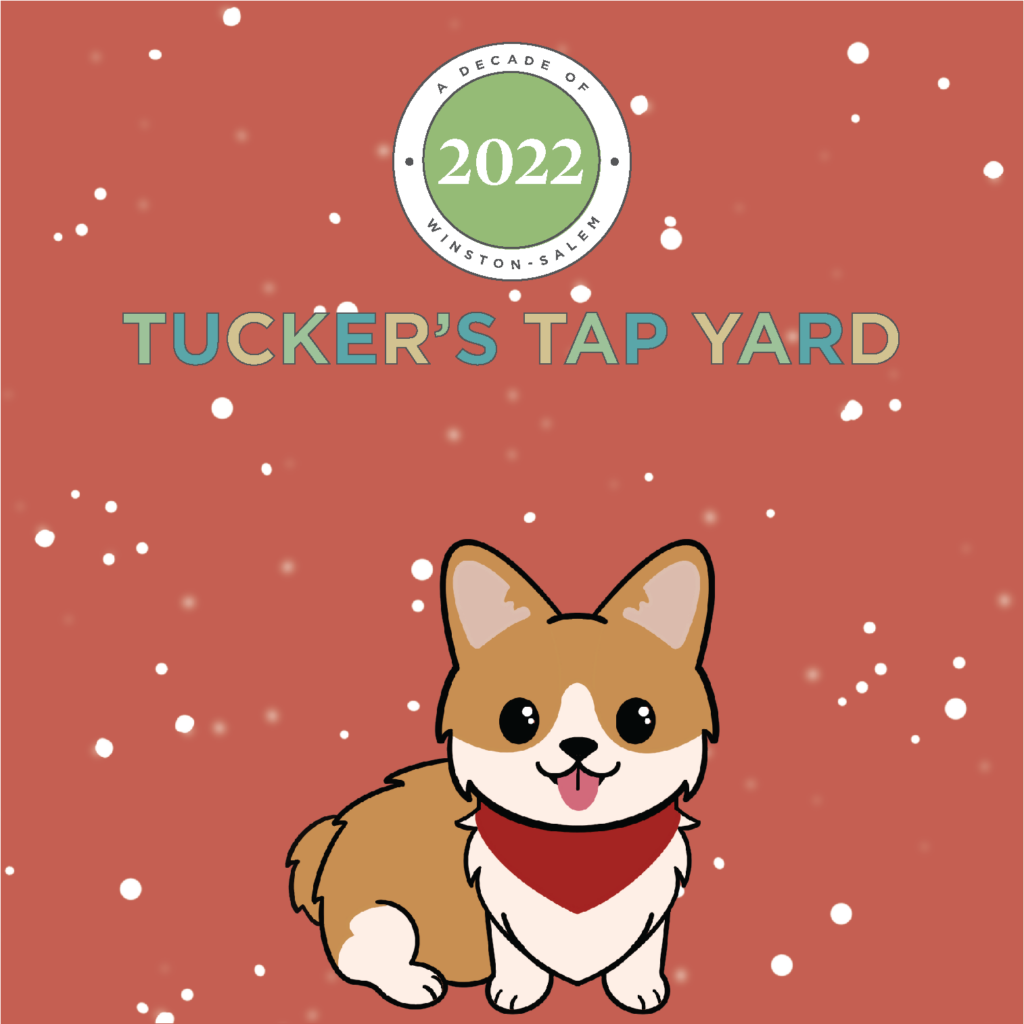 This year brought new concepts to downtown Winston-Salem's restaurant and bar scene. Tucker's Tap Yard, Winston-Salem's first dog park and bar, opened at the beginning of the year. If you still need to check it out, we suggest you put it on your list! It is where owners can unleash their dogs to run and play in the yard while enjoying craft beer on tap, wine, and canine-inspired cocktails. Woof!
Other notable events from 2022:
Day 12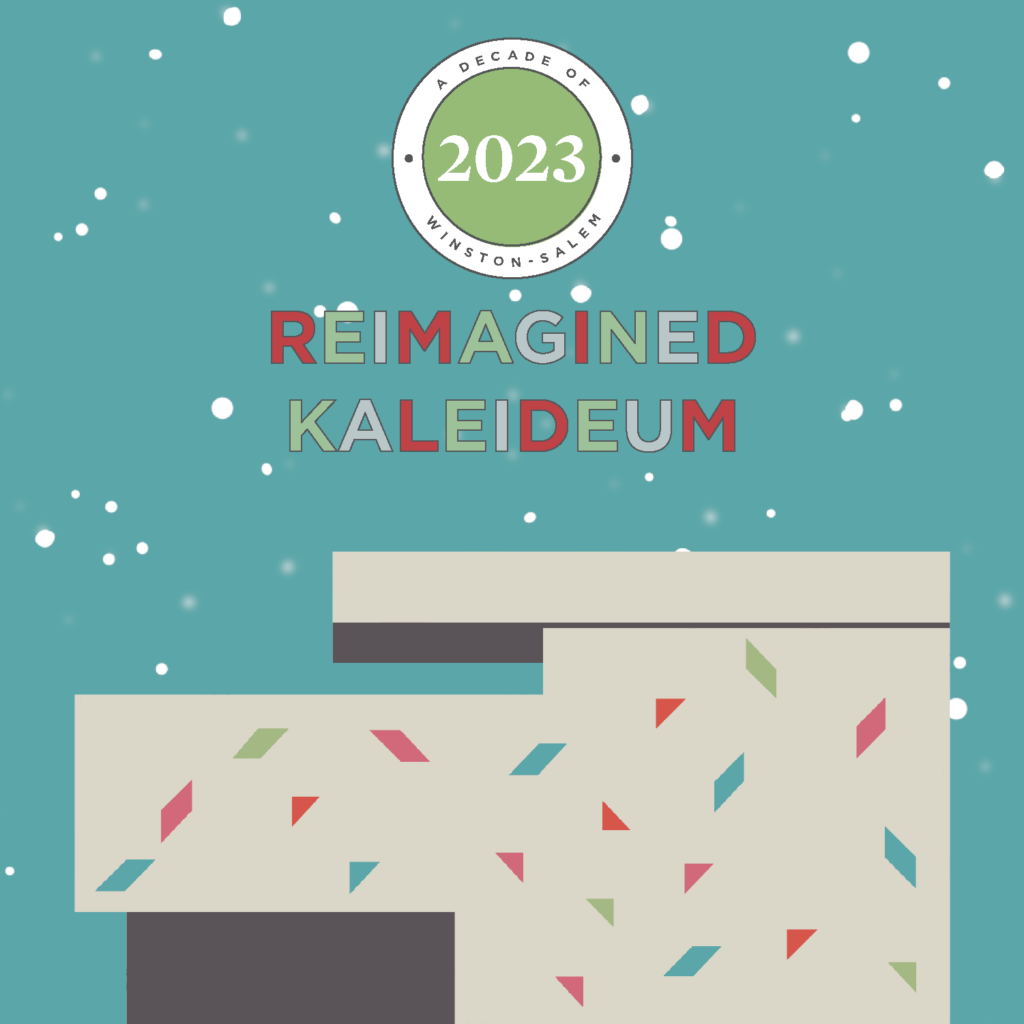 Winston-Salem has evolved over the past decade, and there is still more. In 2023, the doors to the new Kaleideum building will open in the heart of downtown, further encouraging the area's transformation into a place that brings the community together.
Each year, Kaleideum sees around 200,000 visitors. More than 10% of these visitors are students on school field trips, with two-thirds from schools participating in the Title 1 program. Additionally, around 13,000 visitors access Kaleideum through discounted and free admission programs. The new location will enhance the museum's outreach and impact and further enhance downtown Winston-Salem.
But wait, there's more! Across the street from the new Kaleideum building, construction is underway in Merschel Park. The park is scheduled for completion early next year.
Recent Articles: