Let's start from the beginning.
Linville Team Partners is celebrating ten years of successful business and growth in the Piedmont Triad and beyond as a leading commercial real estate brokerage firm based in Winston-Salem. LTP was founded in 2012 when the founding partners realized a gap in local markets and offerings. With a spirit of entrepreneurship and a passion for providing superior relationship-based service, the two, along with their team, set out to help revitalize downtown Winston-Salem.
"When we started LTP, our clients and the greater Winston-Salem community embraced us. We wouldn't be here today without those first people who believed in us and what we were building. We set out to create a company we could be proud of, with a culture rooted in creativity, collaboration, and innovation. Ten years later, as I reflect on where we are today, I am tremendously grateful for every client, community member, and teammate who has been a part of helping us build this."

Aubrey Linville, Founder of Linville Team Partners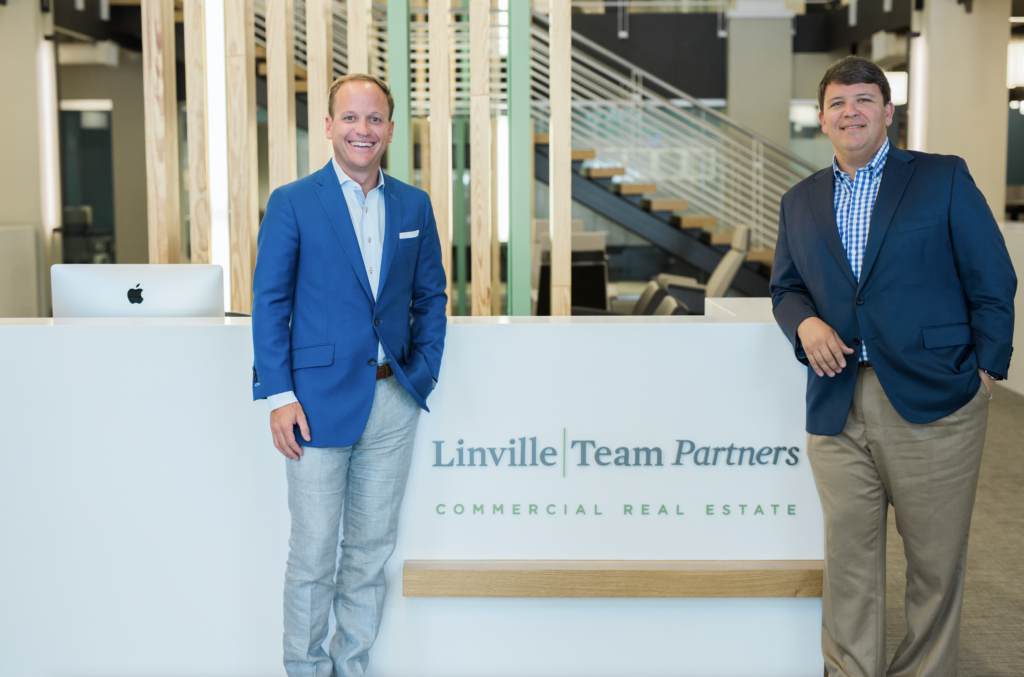 Linville Team Partners founders Coleman Team (left) and Aubrey Linville (right).
The renovation of old buildings and the introduction of new businesses fulfill the dream of a reimagined Winston-Salem.
Since its founding, Linville Team Partners has been instrumental in the growth seen throughout the Piedmont Triad and the rejuvenation of downtown Winston-Salem with involvement in some of the city's most notable projects, including 525@Vine in Innovation Quarter, Bailey Power Plant, Bailey South, Nash Building (Garner Foods headquarters), Liberty Plaza, Tucker's Tap Yard, Joymongers Barrel Hall, Incendiary Brewing Company, Fiddlin' Fish Brewing Co., and the future Industry Hill locations for Two Cities Church and Brunson Elementary.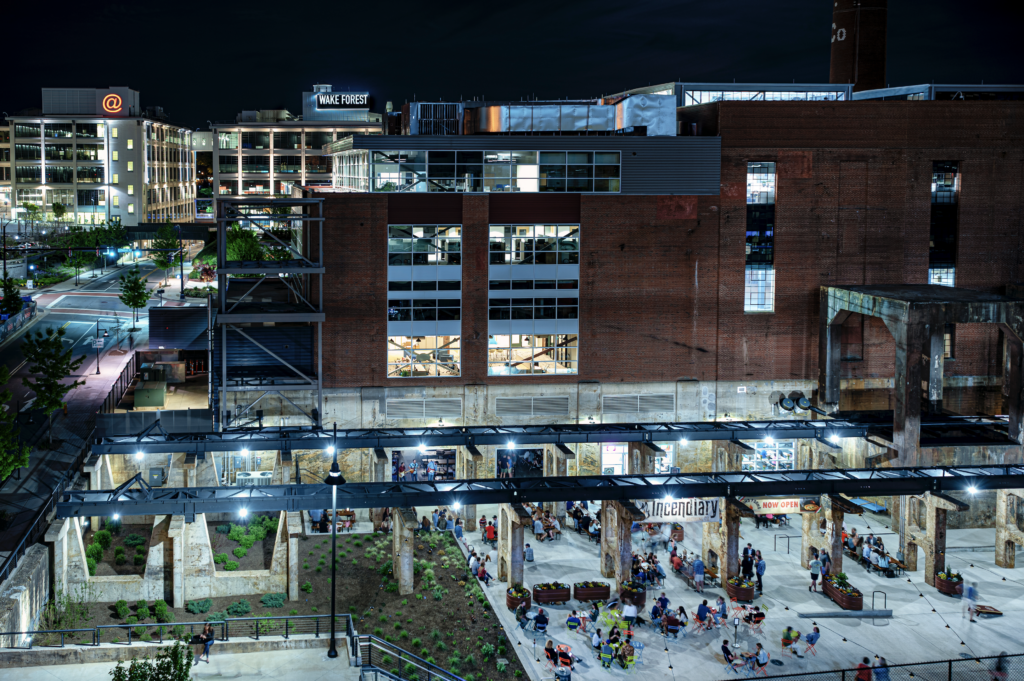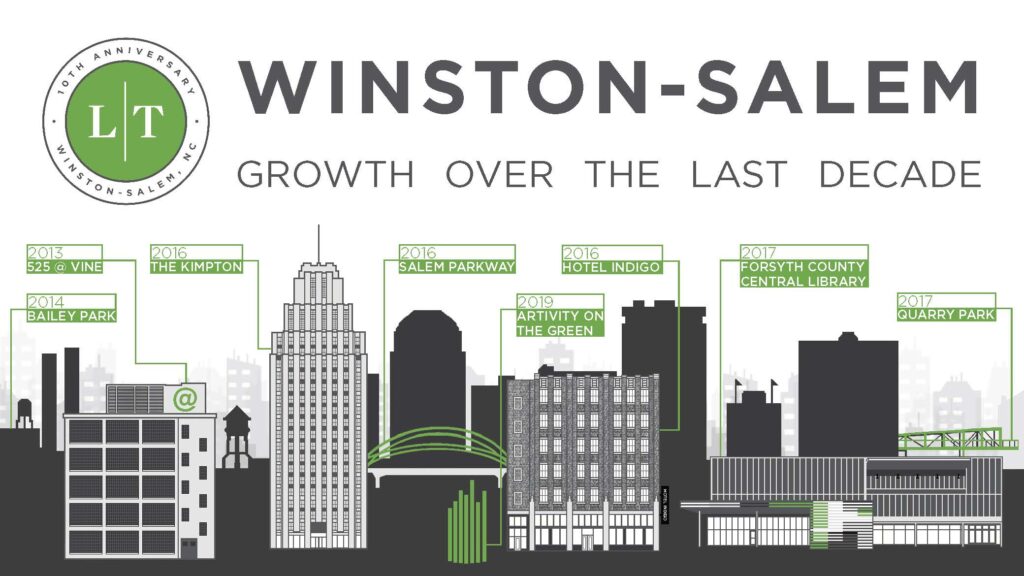 LTP is sharing lasting gifts with the Winston-Salem community to commemorate a decade of business.
First, LTP is sponsoring the planting of a new tree in Merschel Park (at the corner of West Fourth and North Trade Streets) to use year after year for the city's annual tree-lighting celebration. The company also commissioned local artist Christina Parrish to add a new mural to the city's downtown, which recently debuted. The mural is on 411 West Fourth Street (building of Canteen Still Life) and faces North Spruce Street (across from the new Link Apartments).
"We hope the entire community can enjoy these gifts for many years. We wanted to give back to the community that has given us so much. It will be a special way to remember our ten-year celebrations every time we see the mural and when the tree is lit annually for holiday celebrations."

Meg Horvat, Partner/Chief Operating Officer of Linville Team Partners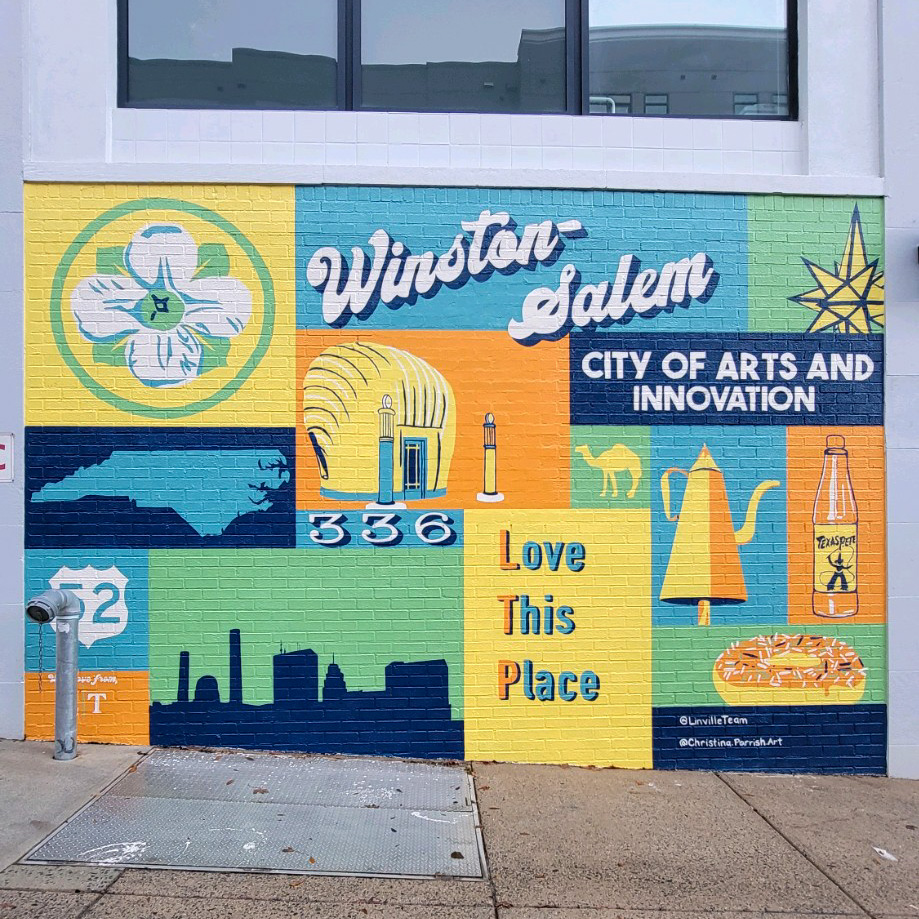 Today, Linville Team Partners has 26 employees delivering best-in-class commercial real estate solutions to clients throughout the Piedmont-Triad.
"If you had asked me ten years ago what our company and community would look like today, I would have hoped for this. Winston-Salem has been on a meteoric rise, and we are proud to have played a small role in that. It has been an amazing journey, and we're all looking forward o what comes next for both Linville Team Partners and the greater Winston-Salem community."

Aubrey Linville, Partner/Broker